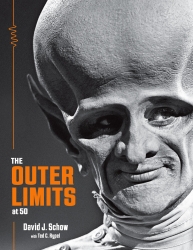 Burbank, CA, March 17, 2014 --(
PR.com
)-- Visionary Cinema Publicity is proud to announce the release of this exclusively published book, not available on Amazon or other online vendors.
Newly commissioned pieces from artists the caliber of Bernie Wrightson, Tim Bradstreet and Steve Bissette mingle with vintage production designs of original creature designer Wah Cheng, exclusive photos of surviving props and new texts from Schow and the original OL 'zine publisher Ted C. Rypel coming full circle.
A 20-page preview of the book is now available to select media outlets. The file is available for a limited time only at:
http://www.creaturefeatures.com/Press/OLat50_20p-Preview.pdf
All copies pre-ordered before March 17th will come hand-signed by David J. Schow. Pre-orders can only be purchased here:
www.creaturefeatures.com/shop/books/the-outer-limits-at-50/
Additionally, Visionary Cinema Publicity is equally proud to announce a gallery event and celebration, "There is Nothing Wrong With Your Television Set"
The Special Event takes place on Saturday, March 22, 2014 — 6:00-10:00pm (Gallery Exhibit Continues Until April 12) at the New Creature Features Store and Gallery — 2904 West Magnolia Blvd., Burbank, CA 91506
Join the creators of The Outer Limits at 50 at a display of newly commissioned paintings, illustrations and sculptures inspired by the classic TV series, alongside original props and vintage memorabilia. Mingle with celebrities from the series as well as the artists in a celebration of five decades of Outer Limits fandom.
Artists Featured: - Steve Bissette, Tim Bradstreet, Norman Cabrera, Monte Christiansen, Ken Daly, Ricardo Delgado, Frank Dietz, John Fasano, Wolf Forrest, Garrett Immel, Phil Joyce, Bob Lizzaraga, Rebecca Lord, Gregory Manchess, Ken Morgan, Rafael Navarro, Greg Nicotero, Mike Parks, Jeff Pittarelli, Eric October, Tim Polecat, Mike Sosnowski, William Stout, Woody Welch, and Bernie Wrightson
For More Information:
http://www.creaturefeatures.com/events/outerlimits/