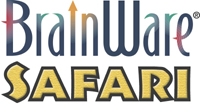 Chicago, IL, March 18, 2014 --(
PR.com
)-- The BrainWare Company has announced the recipients of the BrainWare Brain Awareness Week Grants Program, recognizing Brain Awareness Week, March 10-16, 2014 (
www.dana.org).
The grants program supports the purpose of Brain Awareness Week in promoting a broader understanding of the importance of brain research and its contribution to effective learning and cognitive development in schools. Criteria for the grants included demonstration of ongoing efforts to promote awareness and understanding of the brain among students, teachers and parents; a commitment to effective program implementation; and assessing, documenting and sharing the impact of the program within the applicant's community and with other educators and schools.
The nine schools who will be receiving BrainWareBrain Awareness Week grants are:
Banyan Tree Foundation Academy – Point Loma, San Diego, CA
Bel Aire Park Elementary School, Napa Valley Unified School District, Napa, CA
Kendall Elementary School, Norwalk Public Schools, Norwalk, CT
Lakewood Elementary School, Twin Lakes School District, Twin Lakes, WI
LearningSpring School, New York, NY
Mackenzie School, Vancouver School Board, Vancouver, BC
Oak Grove Center for Education & the Arts, Murrieta, GA
PAL Academy, Weston, FL
Osceola Elementary School, School District of Osceola, Osceola, WI
Spring Grove Area Intermediate School, Spring Grove Area School District, Spring Grove, PA
Wheatley Education Campus, District of Columbia Schools, Washington, DC
"We received many well-qualified applications again this year," said Betsy Hill, President & COO of The BrainWare Company. "It is exciting to see how schools around the country who submitted applications are incorporating brain research into their teaching practices. Many are educating their students and parents, as well as the teachers. Many are also helping students to understand that their brains can be strengthened through their own efforts. The recipients of these awards should be very proud of being chosen as best meeting the criteria for the grants they will be receiving. We look forward to working with each of the successful applications on their implementation of BrainWare Safari or SkateKids/Ramps To Reading, and to a successful partnership in furthering the Brain Awareness Week goal of expanding awareness and understanding of the brain and learning."
About The BrainWare Company
The BrainWare Company is a Chicago-based company that develops and markets programs and tools that further the application of sound neuroscience principles to the teaching and learning process. Its software programs combine neuroscience with motivating video-game technology, and include BrainWare SAFARI, the leading cognitive skills development software in the education market, and SkateKids and Ramps To Reading cognitively based reading programs developed by SKO Learning. The BrainWare Company has developed professional development programs for educators, clinicians and corporate workforce development under the Brains On brand, and was the creator of the acclaimed Neuroscience in Education Webinar Series. The BrainWare Company's innovative approaches make the application of neuroscience practical and effective for consumers, educators, and clinicians and in the workplace.
About BrainWare® SAFARI
BrainWare SAFARI develops 41 cognitive skills in a comprehensive, integrated and engaging way. The areas of skill development are grouped into six areas: Attention, Memory, Visual Processing, Auditory Processing, Thinking, and Sensory Integration. BrainWare SAFARI was named one of the Top 100 Products of 2011 by District Administration Magazine, and has earned an impressive array of awards including the Software and Information Industry CODiE Award as Best Education Game or Simulation; a Parents' Choice Award, a Teachers' Choice for the Family Award; the Academics' Choice Mindspring Award; a Mom's Choice Award; a Distinguished Achievement Award from the Association of Educational Publishers and the Parent Tested Parent Approved Seal of Approval.
About SkateKids™ and Ramps To Reading™
SkateKids and Ramps To Reading are online digital game-based reading programs built to stimulate and develop the cognitive processes necessary for reading, including Planning, Attention and Sequential and Simultaneous Processing, while students build critical literacy skills. SkateKids was a finalist for the Software and Information Industry CODiE Award as Best Education Game or Simulation.
For further information, visit
www.MyBrainWare.com
or call 877-BRAIN-10 (877-272-4610).
Additional Resources:
www.BrainWareSafari.WordPress.com
www.YouTube.com/BrainWareSafari
www.Facebook.com/BrainWareSafari