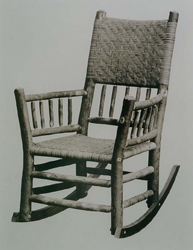 High Point, NC, March 24, 2014 --(
PR.com
)-- In June 1914, the Lewis Glacier Hotel (now Lake McDonald Lodge) opened along the shore of pristine Lake McDonald in Glacier National Park filled with Old Hickory furniture. Now 100 years later Old Hickory furniture is still prominent throughout the historic lodge. Old Hickory Furniture Company and Xanterra Parks and Resorts are celebrating the historic partnership with two commemorative Centennial items: The Glacier Park Chair and Glacier Park Rocker. Both items will be on display at the upcoming High Point Furniture Market in the Old Hickory Booth (1-726) in Made in America Pavilion (Suites at Market Square).
"We chose two historic styles from our 1914 Old Hickory Catalog to embody our long standing relationship with the Glacier National Park Lodges. These designs have been re-introduced, because their timeless beauty is certain to be popular again today," said Bob Morrison, Vice President of Sales & Marketing. "Because we value Glacier National Park and Xanterra Parks & Resorts, 5% percent of each Glacier Park Chair and Rocker sold will be donated to the Glacier National Park Conservancy."
Old Hickory furniture is available through fine furniture retailers throughout the country as well as through interior designers and online retailers. For more information on how to purchase these commemorative Centennial products contact Old Hickory visit oldhickory.com or email info@oldhickory.com.
About Old Hickory Furniture Company:
Old Hickory Furniture Company has long been recognized as the leading manufacturer of rustic furniture in the United States. It was founded in Indiana in 1899, and today its headquarters and primary manufacturing plant remains in the state, in the city of Shelbyville. Old Hickory customers are among the best known hotels, lodges, resorts, and restaurants in the country, including most of the National Park Lodges such as the Old Faithful Inn, El Tovar, and Lake McDonald Lodge. Leading retailers throughout the US offer Old Hickory furniture for every room in the house. The complete line of products can be viewed at www.oldhickory.com.
About Xanterra Parks & Resorts®:
Xanterra Parks & Resorts acquired The Fred Harvey Company in 1968, and with the acquisition of TW Recreational Services in 1995, became the largest national and state park concessioner in the United States. In September 2008, Denver-based Anschutz Company purchased Xanterra, and pledged that the company would remain true to the legacy of hospitality established by Fred Harvey, and would continue to set the standard for ecologically sound resorts that complement, not harm their natural surroundings. Xanterra operates all lodges inside Glacier National Park along with other lodges, restaurants and other concessions at national parks and state parks and resorts including Yellowstone, Zion, Crater Lake, Death Valley, Rocky Mountain and Petrified Forest National Parks, and Mount Rushmore National Memorial; and eight Ohio State Parks.
About Glacier Park Conservancy:
The Glacier National Park Conservancy, a private non-profit 501(c)(3) organization, is the official non-profit fundraising partner of Glacier National Park. The Conservancy is the result of a merger between the Glacier National Park Fund and the Glacier Association in 2013 to better serve the Park.
Contact:
Bob Morrison, bobmorrison@oldhickory.com; 317-398-3151 ext 241