African American Artist Unveils Painting at Mother's Day Tea; Silent Auction to Benefit Breast Cancer Research
African American artist, Beverly Collins, who has seen firsthand the ravages of breast cancer on loved ones and friends most of her life uses art to honor women in general and mothers in particular as she raises funds to contribute to the search for a cure by hosting high tea on Mother's Day eve.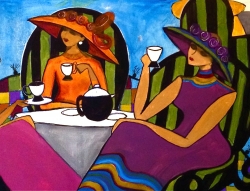 Los Angeles, CA, April 11, 2014 --(
PR.com
)-- African American artist and doll maker, Beverly Collins, will fully unveil her newest painting, "High Tea 2," at an afternoon tea to honor mothers hosted by her company
b.collins Studio
at Brownstone Bistro on Saturday, May 10, 2014, from 12 Noon to 3 p.m.
Guests will enjoy assorted teas, an array of savory finger sandwiches, and sweet creations in traditional high tea fashion. The first 25 guests with paid reservations will receive Mother's Day brooches designed especially for the occasion and a special gift from b.collins Studio. There will be prizes for the prettiest hats and cups, raffles, a silent auction, and a petite boutique. The price is $50 for tickets purchased by April 30th. Reservations are required. Gross proceeds from the silent auction will benefit breast cancer research.
Collins painted the first "
High Tea
" in 2003 for a fundraiser benefiting a friend who was in the last stages of breast cancer and needed funds to seek aggressive treatment not covered by her insurance. This friend later succumbed to her illness and died. Collins remembers witnessing as a child her grandmother in the last stages of breast cancer at a time when much less was known about the disease. In later years one of Collins' aunts endured a radical mastectomy considered standard treatment at the time, later another aunt succumbed to the disease and died, and numerous friends and associates have had to face the challenge of breast cancer. Fortunately, although scarred, most ended their challenge with favorable outcomes. Collins performs a self-examination daily.
With art Collins hopes to contribute to the day when mothers and daughters everywhere will live in a world where breast cancer is a thing of the past.
Contact
b.collins Studio
Deana Reed
213 925 5797
http://beverlycollins.com/high-tea-may-2014.html

Contact