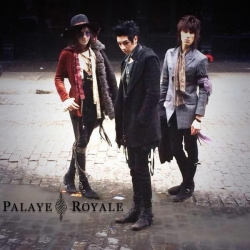 Los Angeles, CA, April 14, 2014 --(
PR.com
)-- The fashion-art rock band Palaye Royale has been named champions of MTV's "Musical March Madness" 2014. They are the first unsigned act ever to compete in and win this fan-voted tournament. The global Samsung Galaxy Note commercial that features Palaye Royale's single "Get Higher" continues to make an impression and make history.
Songwriters, performers, rockstars, co-producers, filmmakers, champions. Years ahead of their time, frontman Remington Leith, guitarist and organist Sebastian Danzig and drummer Emerson Barrett formed Palaye Royale in late 2011 and are now champions of MTV's "Musical March Madness," now in its fifth year. The history-making band is the first unsigned act ever to be fan-voted to compete in the NCAA-style music competition, pitting 64 bands against one another that ultimately saw Palaye Royale defeating Linkin Park in the championships. Palaye Royale can now call themselves victors beating out several major acts in the process including Vampire Weekend, Coldplay, Bastille, Tokio Hotel, We Are The In Crowd and finally Linkin Park.
"It's been incredible," says Sebastian Danzig. "From the beginning, it was all fan-voted to get nominations. I think we tweeted once or twice and it snowballed into this thing where we got a call from MTV and the fan response has been quite brilliant."
Palaye Royale has played shows with Camp Freddy at LA's The Roxy and performed on the same bill as Stone Temple Pilots' Scott Weiland at The Viper Room with a who's who of rock & roll royalty in attendance.
"When you put yourself into this world where you have stars watching your show like Billy Morrison, Steven Tyler, Billy Idol, Dave Navarro, Courtney Love, Billy Duffy, Matt Sorum, Slash, Moby, Linda Perry and Steve Stevens, these people you look up to and idolize first-hand, right up in your face it's far greater than anything on a computer," says Sebastian Danzig. "If the internet goes down, that world doesn't exist. It's brilliant, it's the work and dedication that went into every single day that led to this moment."
A winning mentality has always been top-of-mind for the guys, whose last several months have been a whirlwind. Samsung Galaxy Note hand-picked Palaye Royale's "Get Higher" for a commercial that aired globally on digital billboards in London's Piccadilly Circus, Madrid, Spain and Singapore's Orchard Road in December 2013 - once again making history - as the first-ever unsigned act integrated into Samsung branding. In the illustrated and interactive ad spot, the trio's recent hit, the infectious retro "Get Higher" is the focal point with all members of Palaye Royale using Samsung products in their everyday routine - checking their Samsung watch for their tour schedule, drawing on the Note tablet, playing video and even walking down the legendary Abbey Road with devices in hand. Nearly closing in on 1 Million views on YouTube, the music video for "Get Higher" is quickly catching on with fans and brands as a favorite.
https://www.youtube.com/watch?v=R3feE0RCLsw
Palaye Royale kicked off their career with debut single "Morning Light" in early 2012, garnering 20 Million+ views on YouTube. The introspective, coming-of-age tune cemented the band's fan base, known as Soldiers of the Royal Council, which currently includes 75 fan groups globally, including Germany, Ireland, Scotland, Australia, The Philippines, Brazil, UK and France. Palaye Royale's Soldiers of the Royal Council are part of a youth revolution and movement in music that is making history for the band, building via social media and powering their impressive view counts for their self-created music videos, which they call art films as well as attention around MTV's "Musical March Madness." Palaye Royale has also performed a string of successful sold-out west coast dates in California and Las Vegas.
"For us, we've been passing out flyers to actual human beings on a weekly basis," says Sebastian Danzig. "You can post on Facebook and Twitter all you want, but it doesn't mean you're going to get bodies at your show. But because of our presence and the way we dress, people don't expect us to hand out flyers, but we do the work. We started doing social media a lot, sending out messages and being sociable. It's genuine though, we actually care about what our fan base can be and what we can create. There was a youth revolution in the 70s, people were actually enjoying music and one another's company together and now people are worrying about their next Instagram photo. We choose to utilize it but try to keep the purity of what music's intentions were. We love to do it because of the greater love of music and how we can influence someone's life."
Palaye Royale released the six-song EP "The End's Beginning" in July 2013, a thrilling and multi-dimensional selection of songs with accompanying art films for each track. Beyond the music, Remington, Sebastian and Emerson are very much curators of their own art, paying careful attention to detail.
"With every generation that passes through history and time there are artifacts left behind, whether it be film, photos or music," says Emerson Barrett. "As a band, we input our philosophical imagery into everything we do. We think it is necessary to shine a light on the past, with our art films we do just that. As a band we look to books by Buckminster Fuller and Alan Watts to inspire a greater sense of an art form. What is lacking in modern Western culture and civilization in general is a substantial philosophy to encourage a youth revolution. As Palaye Royale, we realize it is now up to us as artists to continue creating beautiful artifacts of expression to define our generation."
Palaye Royale will return to their hometown of Las Vegas for two very special performances next week, April 17 at Palms Casino Lounge and April 18 at Hard Rock Cafe on the Strip for Hard Rock Rising. For more information, press access to upcoming performances or requests to interview Palaye Royale please contact:
mgmt@palayeroyale.com
.
"Palaye Royale are set apart by their artistry and integrity...'indie' in every sense of the word, completely 'hands-on' from their words and musical arrangements as well as directing and producing their own music videos to handling their own social media." -Pop Vulture
"[Palaye Royale] are like Alice in Wonderland: A thrilling journey of excitement, discovery and sheer amazement, rolled into a compact ball of romance of the soul." -Candy's Corner
"Shaggy-haired, floppy hat-wearing trio from Sin City steamrolled their way through the [MTV's Musical March Madness] bracket, taking out such major players as Coldplay and 2012 champs Tokio Hotel before cruising past Linkin Park in the championship game." -MTV News
Palaye Royale is managed exclusively by The Parliament
Website
- Twitter - Facebook - YouTube