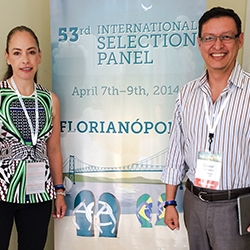 Miami, FL, April 16, 2014 --(
PR.com
)-- Endeavor selected 2 more entrepreneurs from Miami, the organization's first US affiliate, at an International Selection Panel held in Florianopolis, Brazil, April 7 - 9. The two Miami entrepreneurs are co-founders of
Leapfactor
and were part of the 29 selected high-impact entrepreneurs leading 16 companies in 9 countries around the world.
Lionel Carrasco and Marcela Henao founded Leapfactor in 2009 to reinvent field sales execution. Leapfactor provides breakthrough business apps to transform the way companies engage with their sales force, employees, partners and customers. Leapfactor's mobile app, Salesfactor, is a sleek and intuitive product that provides the tools to increase revenues and efficiency. Operating in the US$25B B2B mobile app market, Leapfactor has succeeded in attracting premier clients across industries, such as Avon, AstraZeneca, L'Oreal and HD Supply.
"We started the process motivated to contribute to the entrepreneurial community in Miami," said Lionel, "as we went through the selection process we were amazed with the value that Endeavor Miami's network has already provided to us." The International Selection Panel (ISP) is the culmination of a rigorous multi-step selection process. At the ISP, top international business leaders interview candidates about their businesses and high-impact potential, and then vote on whether or not candidates become Endeavor Entrepreneurs. "We're very excited to add two more high-impact entrepreneurs to our first class of Endeavor Entrepreneurs in Miami," said Adriana Cisneros, Endeavor Miami Co-Chair, who contributed as a panelist interviewing entrepreneurs at the Florianopolis ISP. Post ­selection, Endeavor provides entrepreneurs with customized services, including introductions to local and international business mentors and volunteers from Fortune 500 consulting firms who will help them address key business needs.
Endeavor Entrepreneurs have had a significant track record of creating thousands of jobs and building sustainable growth models, transforming local economies and becoming role models for future generations of entrepreneurs. "Endeavor's selection process has already been transformative for Leapfactor and we're looking forward to continuing supporting them to achieve success," said Ernest Bachrach, Endeavor Miami Board Member, who also participated as panelist in Florianopolis earlier this week. Endeavor Miami launched its operations on September 2013 thanks to the support of the John S. and James L. Knight Foundation and a very active local board of business leaders, each of whom believes that high-impact Entrepreneurship can transform Miami.
"The selection of Leapfactor marks yet another milestone for Miami as it moves from an emerging startup community to a place where ideas grow and prosper," said Matt Haggman, Knight Foundation Program Director for Miami. "The caliber of entrepreneurs chosen to be part of Endeavor is testament to Miami's rising pool of talent—supporting them lays the groundwork for drawing new opportunities and investments to our city."
Endeavor Miami is currently conducting the search and selection process for high-impact entrepreneurs in South Florida. To that end, Endeavor Miami's team is looking forward to presenting more entrepreneurs at the upcoming ISPs this year, which will be held in New York, NY; Istanbul, Turkey and Miami, FL. For more information on Endeavor Miami and to self-nominate companies, please go to www.endeavormiami.org.
About Endeavor
Endeavor is leading the global high-impact entrepreneurship movement to catalyze long-term economic growth. Over the past ten years, Endeavor has selected, mentored, and accelerated the best high-impact entrepreneurs around the world. Entrepreneurs represented over 225,000 jobs and over $6 billion in revenues in 2012 and inspired future generations to innovate and become entrepreneurs too. Endeavor now supports 917 High- Impact Entrepreneurs from 585 companies across 20 countries. www.endeavor.org.
About the John S. and James L. Knight Foundation
Knight Foundation supports transformational ideas that promote quality journalism, advance media innovation, engage communities and foster the arts. We believe that democracy thrives when people and communities are informed and engaged.
www.knightfoundation.org.