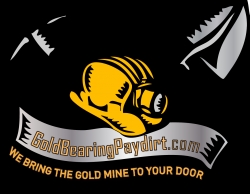 Phoenix, AZ, April 28, 2014 --(
PR.com
)-- It's quite interesting today that there are disabled people who have proved beyond reasonable doubts that a physical disability is not an excuse to be lazy or live on others; but rather it could be an opportunity to explore their own small world and make a living. This was the case of a Phoenix citizen, Mr. Robert Schaefer, an enterprising man who now solicits for help to rebuild his business that was unjustly closed down in recent times.
Robert Schaefer had been unemployed for a long time, owing to his physical disabilities; and because of his resolution to be independent of periodical Social Security grants, he decided to maximize his potential and passion. As a result, he started as a seller thru one of the well known auction sites on the web, offering exclusive pay-dirt concentrates for gold panning, including special deals of gold matrix specimens, loose nuggets, and equipment like sluice boxes and pans. "Although I started gold mining as a hobby, I eventually turned it into a business wherein I began to feel a sense of personal fulfillment by being productive despite my disabilities," he recounted his life story.
"In all, I became self-reliant. As the business grew, I employed another disabled person to work with me, and we were living fine until the popular auction site had caused us much trouble!" he exclaimed. While explaining his ordeal, Robert Schaefer stated that his business was "already doing well with several positive reviews from customers, when a few months ago, just after paying my $3500 store fee to the auction web site, another was issued two days later for the same cycle of billing, a duplicate."
"It was a billing error on the part of the auction site. With all my efforts to ensure that the issue was addressed, I didn't get the right consideration. Instead, being biased and inconsiderate, the management told me to pay the fee to avoid account suspension. I made up my mind that I would not pay the fee, the account was suspended, and all funds were taken from the account we used thru PayPal one of the auction sites affiliates, in order to cover the bill in question without my consent to do so. This had left thousands of dollars worth of recent orders to be filled and all income for those orders taken away. That was how I lost the business. Ever since, life has been quite difficult for me; and my employee as well," he lamented.
Robert Schaefer later decided to start the business from the scratch. Now, he is setting up his own web store, goldbearingpaydirt.com. However, he is still bankrupt, having no financial power to pour into his inventory, pay off debts, advertise the new site, and hire other disabled people who are unemployed. Using the platform of Indiegogo, he is currently running a campaign to raise funds required to rebuild the business.
According to him, all his efforts to obtain credit facilities from financial institutions proved abortive. "I have tried bank loans and some other credit facilities, but my applications were not granted. Nonetheless, I'm happy today that people have begun to respond to my Indiegogo campaign, though the overall contribution is still far below the needs. Some people have shared the campaign page on their social accounts just to get the word out there, as well as support from NIADW.org which is great too," he confirmed.
For more information on the story of Robert Schaefer, go to
http://igg.me/at/riseabove/x/5923452
.