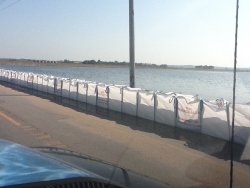 Davenport, IA, April 30, 2014 --(
PR.com
)-- "Every flooded community should be aware of all resources available and stockpile the best ones for each unique situation. This will allow those to defend themselves in a hurry when flood waters arise," says Tom Spalj, owner of Disaster Relief & Innovative Protection Systems, LLC. (DRIPS, LLC) who will be donating 45 feet of the barrier systems to the City.
There are different types of flood barriers, some water filled, and some sand filled, that have proven themselves to be extremely effective and time saving over conventional sandbags. Big Bags USA barriers claim to be the fastest and most economical of any barrier on the market.
Different than other rapid flood fighting products, the Big Bags USA barriers are a system of five cubic yard bags that open like an accordion to 15 feet each. They remain open for filling, which can start right away, and are screwed together from one system to another to reach any length. They conform to the ground when each bag within the system is filled. This can be done with a skid steer, front end loader, or any other piece of equipment that can fill a bag with sand.
Spalj is adamant about being proactive versus reactive. "If those (municipalities, etc.) have ground crews ready to go during the action stage of a flood event with our systems in stock, they can easily take care of multiple locations at one time."
One 15 foot system replaces 750 sandbags with two men in 10 minutes or less. Uniquely, the systems are able to stay open for filling through use of machinery due in part to the u-frames located on the inside of each bag.
The cost comparison with other methods will show that the Big Bags USA systems end up being cheaper than conventional sandbags if stacking them past one foot tall.
This demonstration will provide another method of flood defense that can be used by anyone tired of manipulating regular sandbags. The address for the demonstration is 227 Leclaire Street in Davenport Iowa. It begins at 10:30 on Thursday May 1st.
Contact:
Pat Rehmer
Patr@bigbagsusa.com
1153 Cedar Drive,
Osage Beach,
Missouri
573-216-3497