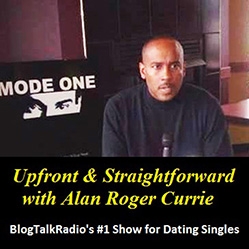 Hollywood, CA, May 02, 2014 --(
PR.com
)-- Alan Roger Currie still has a trophy he earned during his senior year of high school in Gary, Indiana that says "1st Place - Radio Broadcasting." Who would have guessed that the talent Currie used to earn that trophy would not come into play in his life until many years later.
In his mid-to-late twenties, Currie was focused on pursuing a career as a television and/or feature-film actor. In 1989, Currie was the Grand Prize Winner of the Chicago Miller Lite Beer Comedy Search Contest, the same comedy contest that Ray Romano won in New York that same year and the late Bernie Mac won in Chicago in 1990. Later, Currie switched his interests toward screenwriting and filmmaking. Finally, Currie realized that his true passion was public speaking, and more specifically, becoming a professional dating coach who helps single heterosexual men worldwide improve their interpersonal communication skills with women.
Currie started "Upfront & Straightforward" in June 2007, and since then, the popular talk radio podcast program has had more episodes ranked as the #1 episode-of-the-week than any other show on BlogTalkRadio.com in the categories of 'Relationships,' 'Romance,' and 'Self Help.'
"Upfront & Straightforward" primarily centers on providing knowledge, wisdom, and helpful advice to single men and single women trying to navigate their way in today's ever-so-challenging dating singles scene.
"I remember after my first episodes, I only had about one hundred listeners within the first seventy-two hours after the live recording became what is known as an 'archived podcast' (i.e., a downloadable mp3 file). In the last year, I have now had episodes where I had over fifteen thousand listeners in the first seventy-two hours. I feel very good about that," said Currie, who is also an author of three paperbacks and three additional eBooks related to helping single heterosexual men create more romantic and sexual chemistry with women.
Here is a brief list of some of the more well-known guests of "Upfront & Straightforward" who Currie has interviewed in the last seven years:
- Daniel Bergner, NY Times Writer and Bestselling Author
- Dr. Brad Blanton, Bestselling Author
- Cindy Gallop, Internationally known Advertising Executive and Public Speaker
- Robert Greene, NY Times Best-Selling Author
- Dr. Helen Fisher, Internationally renowned Anthropologist and Book Author
- Hill Harper, NY Times Best Selling Author and Feature-Film & Television Actor
- Nina Hartley, Legendary Adult Film Actress and Activist
- Danisha Danielle Hoston, Media Personality
- Roland 'Buddy' Lewis, Comedian and Feature-Film & Television Comedy Writer
- Karen McCullah-Lutz, Hollywood Screenwriter
- Sabrina Rogers-Anderson, Australian Sex & Relationships Coach
- Tasha Smith, Feature-Film & Television Actress
Currie also is the Host of a spin-off podcast program entitled, "The Erotic Conversationalist" which features very candid, uncensored, erotically explicit interviews and conversations with female guests about any subject or issue related to improving one's sex life. The most eyebrow raising 'hook' of this program is that many of Currie's female guests openly masturbate during various portions of the interview.
"My nickname on that show is 'The King of Verbal Seduction,' and if I say so myself, I usually tend to live up to that nickname," added Currie. Currie has recorded ten episodes of "The Erotic Conversationalist" since July 2009.
In addition to hosting his talk radio show, Currie has been a featured speaker at many dating advice workshops in many cities in both the United States as well as internationally. In 2013, Currie spoke in both Berlin, Germany and New York City.
How long will Currie continue with "Upfront & Straightforward" on BlogTalkRadio? "My listenership is still high, so because of that, I have no definite plans to end the program ... but if a bigger and better opportunity presents itself to give me wider exposure and adequate financial compensation, I will probably move on."
URL link for the 7-Year Anniversary episode: http://www.blogtalkradio.com/modeone/2014/05/30/alan-roger-currie-celebrates-7-years-of-upfront-straightforward-on-btr
You can purchase Currie's books on Amazon.com, BarnesAndNoble.com, or http://www.modeone.net