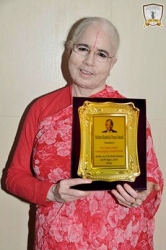 Plano, TX, May 03, 2014 --(
PR.com
)-- JKYog centers throughout the US, part of the worldwide mission of Jagadguru Kripaluji Maharaj, will be celebrating the work of Jagadguru Kripaluji Maharaj's charitable organization (JKP) which just received the Nelson Mandela Peace Award, using the occasion as an opportunity to inspire and instill the importance of selfless service in youth in their local communities.
Kripaluji Maharaj's decades of selfless service has inspired long standing charitable works which have recently garnered multiple prestigious awards including the Rajiv Gandhi Global Excellence Award and the Mother Teresa Excellence Award. While JKP runs numerous 100% free charitable endeavors including free hospitals, the Nelson Mandela Peace Award was bestowed for providing 100% free education from kindergarten to postgraduate studies to over 5,000 girls in rural poverty-stricken part of India.
"We commemorate this effort, grateful for the invaluable treasures and legacies of Jagadguru Kripaluji Maharaj by bringing his values closer to people. While the award and the work done to receive it was far from the US, the value of selfless service needs to be carried forward and valuable lessons learnt from it, wherever we are and whatever community we serve. We will be using JKP Education's internationally recognized project to uplift and improve communities as an example to instill the value of selfless service in our youth through our character building and leadership programs throughout the US," explained Swami Mukundananda, founder of JKYog.
JKYog, with 20 centers across the US, strives to implement the core message of selfless service through its initiatives for health, wellness, spirituality and education in yogic sciences throughout the US, and internationally. JKYog projects in the US include a youth character building program -- Bal-Mukund -- inspiring youth towards become positive contributors to society, through education in the values and virtues found in the Vedas.