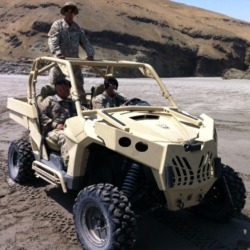 Tampa, FL, May 04, 2014 --(
PR.com
)-- RP Advanced Mobile Systems (RPAMS) and World of Powersports, Inc will be exhibiting at SOFIC 2014 in Tampa from 20-22 May, 2014. Included in the exhibit will be two innovative vehicle systems developed by RPAMS along with end to end sustainment and training solutions from World of Powersports.
The vehicles will be on display in the Bombardier Recreational Product (BRP) booth #2024. Based on the commercially available Can-Am Commander, Maverick and Outlander 6x6 the vehicles have special modernization upgrades including a Folding Roll Cage for CV22 transport, the all new RP Advanced "Ride Mitigation Seating," Dual Level rear cargo bed, RP SOF II Run Flat Tires and other operator suggested improvements. Information on purchase, deployment, sustainment and training for C2 and Strike Vehicle customers will be available from World of Powersports' military division "MilitaryAtv.com" and will include former Special Forces soldiers and instructors at the booth.
The Strike C Combat Support vehicle on display will demonstrate innovative tactical flexibility and firepower support through modularity of its 4x4 and 4x6 configuration. This multimodal capability allows for enhanced payload, weapons integration, maximum troop deployment and austere terrain navigation by having the performance of the 4x4 vehicle and the increased payload of a traditional 6x6.
In addition, the all new and advanced Strike-R ROEV unmanned vehicle will be on display. This UGV will incorporate the Buster UAV system to demonstrate the viability of having standoff surveillance with minimal risk to combat elements.
2014 SOFIC (Special Operations Forces Industry Conference) will be held May 20–22, 2014 at the Tampa Convention Center, Tampa, FL. This year's conference theme, "Strengthening the Global SOF Network," will provide a forum for military, government, academia, and industry stakeholders to network and discuss current and future challenges and how to best support our Special Operations Forces (SOF) around the globe.
RP Advanced Mobile Systems, LLC is a Veteran and Minority Owned Small Business located in McMinnville, Oregon CAGE code: 5D2V2. Its systems are used by first responders such as US Customs and Border Patrol, BLM, US Forest Service, the National Guard as well as Fire and Rescue and various law enforcement offices conducting critical tasks. World of Powersports, Inc is a Small Business located in Decatur, Illinois CAGE code: 8ALC7 that conducts training and support operations and maintains a parts distribution center in support of multiple current contracts. World of Powersports was recently recognized by Lockheed Martin Missiles and Fire Control with its Outstanding Supplier Award for 2013.
For additional information contact Terry Wilmeth (terry.wilmeth@rpams.com) or Mike Jackson (mikej@militaryatv.com). Visit
www.rpams.com
or
www.milatv.com
for photos and spec sheets.