GamerZines Publishes Free Multi-Lingual PES 2008 Magazine
World's first 5 language digital magazine launched for Konami, offering English (UK and Aus), German, French and Italian versions simultaneously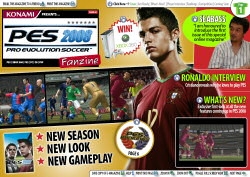 London, United Kingdom, October 12, 2007 --(
PR.com
)-- GamerZines, the portal for free monthly videogames magazines from Cranberry Publishing Ltd, has released the first issue of Konami Fanzine, covering Pro Evolution Soccer 2008. Produced for Konami, the magazine is available for free, immediate download in English, German, French and Italian.
"This is the first time anyone, anywhere has ever attempted something so massive," says Editorial Director, Dan Hutchinson. "Producing the same magazine in multiple languages is a phenomenal achievement that is only possible in our digital format."
Showing Konami's desire to bring the best information about its games to gamers, the Konami Fanzine is a stage on from last year's PES Fanzine produced by Cranberry Publishing Ltd for Konami.
"This year Konami decided that they wanted to extend the work that our PES Fanzine did for them in two ways," explains Publishing Director, Dave Taylor. "Firstly they wanted to cover their other major releases, so this year we will be covering more than just PES in future issues. Secondly they wanted to offer non-English speakers the opportunity to read the magazine in their native language. It was a challenge we leapt at, and I'm pleased to say the results of the months of work are now available for anyone to enjoy for free."
The magazine is produced in PDF format, so readers simply require Adobe Reader 8 on Windows, as with the other GamerZines. As well as being multi-lingual, each page is enhanced with video, animated materials, interactive content and it also includes an interactive competition with the chance to win an Xbox 360 console. It introduces all the new features of Pro Evolution Soccer 8, showcases the games graphics and includes an interview with the face of PES 2008, Ronaldo himself.
The Konami Fanzine and the other GamerZines can be downloaded now from
http://www.gamerzines.com/konami/
###
Contact
Cranberry Publishing Ltd
David Taylor
0207 692 0883
www.gamerzines.com

Contact