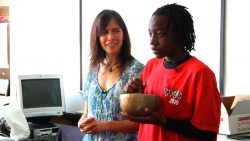 San Francisco, CA, May 30, 2014 --(
PR.com
)-- "Room to Breathe" follows four students in the classroom with the highest suspension rates in the San Francisco Unified School District as they are introduced to the practice of mindfulness meditation. Confronted by defiance, contempt for authority figures, poor discipline, and more interest in "social" than learning, their mindfulness teacher, Megan Cowan, of Mindful Schools, runs into unexpected trouble in the classroom. Will she succeed in overcoming the street-hardened defiance to open their minds and hearts?
Room to Breathe has aired nationally on 150 public television stations across the country, and in twenty film festivals in seven countries. Recognized by Edutopia as one of the top films "to get you thinking" about education reform, "Room to Breathe" is the first feature length documentary film to bring national attention to the growing movement of implementing mindfulness programs in classrooms.
Producer/director, Russell Long, Ph.D. says, "The American educational system today is obsessively focused on the acquisition and testing of external knowledge for children. Unfortunately, this has come at a great cost: neglect with regard to the social and emotional education of the whole child.
"However, since the mid-1990s, a variety of very effective social and emotional learning programs have been implemented in classrooms across the country. Backed up by major studies, these programs are shown to reduce anger and acting-out behavior, and improve attention, learning, and grades, as well as happiness and emotional self-regulation in the students involved in them.
"I made 'Room to Breathe' to highlight one such program, based on a practice called 'mindfulness,' implemented in several of the lowest-performing classrooms in the San Francisco Unified School District."
Long has produced several award winning social justice films that have screened at Sundance, Silverdocs (now AFI Docs), Telluride Film Festival, and Toronto International Film Festival. "Room to Breathe" is his directorial debut.
What the critics are saying:
"Room to Breathe has brought national attention" - Andrew Reiner, Washington Post
"Gave me hope." - Richard Shiffman, Sydney Morning Herald
"A deeply moving and inspiring film" - Huffington Post
"An excellent discussion starter for educators and students interested in raising achievement levels." - Booklist Online (American Library Association)
"Room to Breathe tells the story of a special school community that has the courage to try something positive, enriching and innovative to support their students. The principles learned through the Mindfulness sessions - focus, respect, calmness, introspection - will be of great lifelong value to the students, and, to the teachers and parents who support them." - Mary Jane Burke, Superintendent of Schools, Marin County
"This film beautifully and authentically portrays the power of mindfulness to change individuals, families, one classroom, and perhaps, one day, the world." - Diana Winston, Director of Mindfulness Education, UCLA's Mindful Awareness Research Center
"A riveting story of at-risk kids learning to take more control of their lives and actions through the powerful practice of mindfulness. The scientific evidence is overwhelming that the ability to focus, to attend and regulate one's emotions has extraordinary positive benefit..." - James R. Doty, M.D., Founder and Director, The Center for Compassion and Altruism Research and Education, Stanford University
You can view the trailer on the film's website www.roomtobreathefilm.com.
Read more about mindfulness and "Room to Breathe" at the website above.
Contact Information
www.roomtobreathefilm.com
Andrew Bateman
505-401-0746
andrew@roomtobreathefilm.com