Room4Interiors Sweep Up at Awards Winning Five in One Week
After a revamp of their website, Room4Interiors.com decided to enter some high profile digital magazine awards resulting in a clean sweep of no less than five.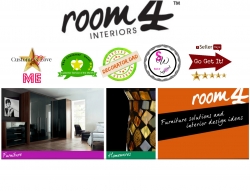 London, United Kingdom, May 31, 2014 --(
PR.com
)-- Room4Interiors is an established online furniture website specialising in modular and romantic furniture for the home and office. They have a focus on great design for an affordable price yet it's not this that has seen them win five awards.
Room4Interiors have always concentrated on the customer experience yet they only felt confident enough to enter the awards after the feedback they received for their service was consistently good.
Jane Aldridge, a director in the business explains, "We've always believed that the basics of a good retail business, whether it's furniture or otherwise, should be excellent customer care and great value for money. As we have a lot of experience in the furniture industry we find this easy to achieve. When we saw our customers were leaving great feedback we put ourselves forward for a few competitions. We didn't expect to win so many awards!"
Room4Interiors won no less than five awards, each celebrating their commitment to customer care, along with their choice of furniture for sale.
The awards were:
· The Consumer Voice Best Customer Service Award
· The Sunday Woman Seal of Approval Award
· The Customers Love Customers Love Me Award
· The Decorator Dad Approval Award
· The eSeller News Go Get It Award
Martina Mercer, the editor of The Consumer Voice explains why Room4Interiors were so successful. She says, "They offer great service as standard but more than this, they make their furniture affordable. While others are trying to exact the maximum profit, Room4Interiors actually leave a little off so interior designers can profit too. We're always looking for great value storage furniture for our consumers as it seems that as soon as the word storage is mentioned the price doubles. Room4Interiors is one of the only suppliers that keep their prices sane in this field. They also have a good presence online giving a lot of design advice to consumers, this makes them, in our eyes, a company that cares about its customers."
About Room 4 Interiors
Room4Interiors supply a wide selection of furniture across many ranges from French inspired to modern modular funirture. They also help to transform rooms with their clever over bed and wardrobe integration units that can be added on as needed.
Although they do supply direct to the individual consumer they are very popular with offices and interior designers as they allow these to buy high quality furniture at a wholesale price.
Their articles have featured on Business 2 Community and BuzzFeed.
For more information visit room4interiors.com
Notes for Editors
For press and interviews please contact:
Jane Aldridge
jane.aldridge@room4interiors.com
Contact
Room4Interiors
Daniel Owen
07540545860
www.room4interiors.com

Contact