DUECO Inc. Names Judie Taylor CEO and Marikris Coryell COO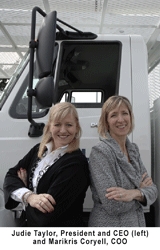 Waukesha, WI, June 02, 2014 --(
PR.com
)-- DUECO, Inc., the largest privately owned provider of Terex Utilities and Terex® Hi-Ranger bucket trucks, digger derricks, cranes, stringing and tension equipment, and utility trailers in the country, has named President, Judie Taylor as President and Chief Executive Officer. Marikris Coryell, formerly Executive Vice President of Operations, has been named Chief Operating Officer. Taylor was named President in 2009 and has 20 years of experience with this third generation women-owned company. Coryell has served as Executive Vice President since 2012 and has been with DUECO 13 years.
Judie Taylor commented, "As we continue to position DUECO for future growth, we have now established a secure foundation for our family business leadership team. As a women-owned business with deep roots in the industry, we are uniquely positioned to grow as we partner to support our customers in their goal achievement."
DUECO, Inc. is a women-owned business and the largest independent provider of Terex bucket trucks, digger derricks, and cranes for the utility market in the nation. Additionally, DUECO manufactures custom utility truck bodies; distributes mini derricks/aerial lifts, stringing equipment and trailers; and supplies tools and accessories for all truck brands. Family owned and operated since 1955, DUECO's philosophy of teamwork, integrity, and open communication with customers and employees ensures high quality equipment at the best value. With headquarters in the Metro Milwaukee area, DUECO services customers 24/7 in seventeen states. To learn more, visit dueco.com or call 800-558-4004.
Contact
DUECO, Inc.
Louise Hermsen
800-558-4004
Direct Email: louise.hermsen@dueco.com
Direct Phone: 262-547-8500 x8212
Company Twitter: www.twitter.com/Dueco

Contact