DUECO Inc. Promotes Tony Holscher to Service Center Supervisor for the Western States
Tony Holscher, Appointed to Lead Service Operations for the Watertown, South Dakota Branch.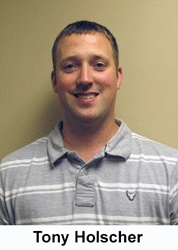 Waukesha, WI, June 10, 2014 --(
PR.com
)-- DUECO, Inc., the largest privately owned provider of Terex Utilities and Terex® Hi-Ranger bucket trucks, digger derricks, cranes, stringing and tension equipment, and utility trailers in the country, has announced the appointment of Tony Holscher as Service Center Supervisor. Holscher will be responsible for leading the service activities for the company in Wyoming, Montana, North and South Dakota, Nebraska, Iowa and Minnesota.
Following significant experience in the automotive service area, Holscher joined DUECO in 2010 in the Service Department, then spent a year in Installation and returned to the Service Department as a service team leader. In his new role as service center supervisor, he will have responsibility for leading the service team in the repair of customer equipment in a timely and efficient manner, including working with customer's to schedule equipment repairs, pickup and delivery, and scheduling field service techs in each state.
DUECO, Inc. is a women-owned business and the largest independent provider of Terex bucket trucks, digger derricks, and cranes for the utility market in the nation. Additionally, DUECO manufactures custom utility truck bodies; distributes mini derricks/aerial lifts, stringing equipment and trailers; and supplies tools and accessories for all truck brands. Family owned and operated since 1955, DUECO's philosophy of teamwork, integrity, and open communication with customers and employees ensures high quality equipment at the best value. With headquarters in the Metro Milwaukee area, DUECO services customers 24/7 in 17 states. To learn more, visit dueco.com or call 800-558-4004.
Contact
DUECO, Inc.
Louise Hermsen
800-558-4004
Direct Email: louise.hermsen@dueco.com
Direct Phone: 262-547-8500 x8212
Company Twitter: www.twitter.com/Dueco

Contact