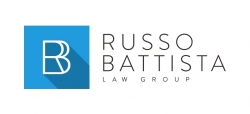 Ft. Lauderdale, FL, June 10, 2014 --(
PR.com
)-- Attorney Anthony J Russo Jr., partners with Louis Battista to form new law firm.
Attorney Anthony J. Russo, Jr. announced today that he has partnered with long-time friend, Louis Battista to begin a new law firm, the Russo Batista Law Group based in Weston Florida. Their new focus? Traumatic Brain, Spinal cord and Catastrophic injuries. "These types of injuries are at near epidemic levels," said Anthony Russo, "and when they occur, loved ones and family members don't know where to turn - that's where we come in," Russo said.
When it comes to litigation, Anthony J. Russo, Jr., knows what to do. In 2009, he was a partner with a team of lawyers who won the first whistleblower lawsuit to top $1 billion. It was against pharmaceutical giant, Eli Lilly (Civil Action #03943). For the past several years he has continued to represent those who have been victimized by others.
Louis Batista, an experienced board certified civil trial attorney, brings to the new firm an impressive track record of successfully litigating tough serious injury cases. His stellar reputation and proven results with top law firms over the past two decades have earned him numerous accolades and recognition. Battista is well known as a fearless advocate for those with Traumatic Brain and Spinal cord injuries.
The newly minted Russo Battista Law Group is more than just a law firm. They have created a unique one of kind organization. "In addition to our attorney staff, we also have hired case managers and an investigator, which is part of our new model," Louis Battista said. The case managers, who are accomplished nurses and social workers, act as the liaison between the law firm, the clients and their families and healthcare providers. Whether it is completing insurance documents, arranging for appointments with specialists, obtaining reports, finding needed resources such as a rehabilitation center or specialist, or preparing you for legal proceedings, the Care Managers provide comprehensive assistance every step of the way. This "new model" to which Battista referred is a distinct approach to catastrophic injuries that is not just meant to help the victims financially but aid them in navigating their entire journey towards recovery so that they can get the help they need.
According to one definition, a catastrophic injury is, "…a severe injury to the spine, spinal cord, or brain, and may also include skull or spinal fractures." The firm has chosen to focus its attention on these very serious injuries. "We support those who have been injured through the entire process," said Anthony Russo. "It is fulfilling to see the difference we can make in the lives of both the person who is injured and their families. It's not just about the monetary compensation we can recover, it's more than that, it's helping them regain their life back."
The firm is also involved in many community activities. Recently, they partnered with Kraeer Funeral Home in Margate to raise funds for Tyler Paquin. Tyler was a young man who suffered a traumatic brain injury while skateboarding. The firm has also committed to being the title Sponsor at Mothers Against Drunk Driving's Florida State Law Enforcement event to be held in August of this year and was a sponsor of "Walk Like MADD" in Fort Lauderdale this May. Russo and Battista have long been known for their community service. "It's natural that it is a part of our new firm's activities, it's just who we are," said Battista.
The Russo Battista Law Group's main office is located in Weston, Florida with satellite offices located throughout the state of Florida. For more information, they can be reached at 954.767.0676 or you can visit their website at
www.rblawgroup.com
. The firm is also active in social media both on Facebook (facebook.com/rblawgroup) and Twitter (@rblawgroupfl).