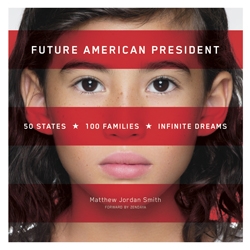 Torrance, CA, June 12, 2014 --(
PR.com
)-- What would you do if you were president of the United States? That is the question celebrated photographer and author, Matthew Jordan Smith asked children from 100 families from all around the country. In his new book, "
Future American President
: 50 States-100 Families-Infinite Dreams," Smith masterfully photographs the answers to this question, filling-up the pages with the powerful hopes and dreams of the youngest generation. Across all fifty states, within 100 families, Smith beautifully reveals the country's potential as it lives and breathes within America's youth.
This book will showcase extraordinary stand-out features; a forward written by Zendaya Coleman, the star of Disney's "Shake It Up" and "Dancing with the Stars" sensation; an inspirational quote by President Jimmy Carter, offering "encouragement and advice for generations to come." Educational elements will feature throughout, such as originating maps of American president's home states, and a table of contents illustrating the path states took to unionizing.
Each one of these 100 presidents was found living somewhere in America's many and varied backyards, only waiting to realize the American dream of fulfilling every last drop of their boundless potential. However, in truth, Smith has only photographed 99 future presidents, and has been saving the last space, the 100th, to offer every parent in America the opportunity to add their child to the book. For the entire month of June (see video for
Special Offer
), Smith will allow children to do more than just imagine themselves as President—they will get to see themselves as president on the cover of his new book. Also, to further the chances young people have of seeing their dreams come true, a portion of the book's sales will be given to the Boys and Girls Clubs of America.
Matthew Jordan Smith is one of the most popular and renowned photographers in Hollywood. His successes span fashion, television and literature. He has worked with some of the top names within the entertainment business, and is also the author of two additional books: Sepia Dreams: A Celebration of Black Achievement Through Words and Images, and The Lost and Found. Visit the author's website at www.MatthewJordanSmith.com