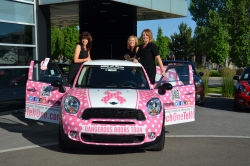 Reno, NV, June 12, 2014 --(
PR.com
)-- The official Dangerous Boobs Tour vehicle hit the road last week at MINI of Reno, where the "Dangerous Boobs Tour" unveiled its latest tool, a Mini Countryman. Sandy Raffealli, owner of Bill Pearce Motors of Reno, graciously donated the Mini Countryman, which is wrapped in pink with white polka dots, thanks to Grafics Unlimited artist Jill Pauly, also of Reno.
The purpose of the Dangerous Boobs Tour is to educate women about the importance of knowing that mammography is not enough for women with dense-breast tissue. They need an additional screening such as ultrasound or MRI to detect what mammography misses in that tissue type.
The pink-and-white polka dot Mini is designed to make women ask: What is dense-breast tissue? Do I have it? Tour leaders also hope it will motivate women to talk with their doctors about the breast examinations that are right for their breast tissue type.
"We applaud this act of generosity toward the very important dense-breast awareness cause," says Karsten Damgaard-Iversen, CEO of SonoCine, Inc.
Matt and Lydia Meyer, of Mini of Reno and Bill Pearce Motors of Reno, presented the Mini to Heather Reimer, founder of "Each One, Tell One" and to Wendy Damonte and Chiqeeta Jameson. The three women launched the Dangerous Boobs Tour.
The tour's mantra "each one, tell one" is meant to inspire women to learn about their own breast density and, in turn, educate friends and loved ones. Reimer, Damonte and Jameson have all been impacted by dense-breast tissue. Jameson and Reimer are dense-breasted cancer survivors whose cancers were missed by mammography but were later detected through ultrasound and SonoCiné AWBUS (Automated Whole Breast Ultrasound). Damonte joined the Tour in honor of her mother who, "didn't die because she had breast cancer, she died because she had dense breasts," Damonte says.
For more information please log on to
www.eachonetellone.com
About MINI of Reno: MINI of Reno is the 5th franchise for Bill Pearce Motors of Reno, Nevada. A family-owned business since 1974, their other franchises include Honda, BMW, Volvo and Porsche. In 1998, Bill Pearce's daughter and son-in-law, Sandy and John Raffealli, took over ownership of the company. Bill Pearce Motors also operates a body shop and a collision center. Bill Pearce Motors' has deep roots within the Reno/Tahoe community and is a leader in the marketplace. Bill Pearce Motors was recognized by the Reno News and Review as the best new car dealer in Reno, and one of the top three dealers in the pre-owned car segment. For more information:
www.billpearcemini.com
About Grafics Unlimited of Reno: Grafics Unlimited has operated as a family owned sign business since 1976. They are a full service sign business and can provide signs for all types of business needs. Moving from Southern California to Reno, NV in 1993 their niche has become providing large vehicle graphics (wraps) and signage to many customers. Grafics Unlimited installed the very first vehicle wrap that Reno saw in the early 1990′s for Wild Waters on a 40′ bus to advertise the Red Viper ride. Grafics Unlimited is the top leader in wrapping vehicles for Northern Nevada and surrounding areas. For more information:
www.graficsunlimited.com
About SonoCine, Inc.: SonoCine, Inc. is a medical research and development company that manufactures and distributes the SonoCiné AWBUS™ (Automated Whole Breast Ultrasound) technology. The AWBUS™ system was invented and engineered to provide an adjunctive screening examination that maximizes early detection of mammographically occult breast cancers in women with dense-breast tissue and women with breast implants. The patented technology integrates with all commercially available ultrasound scanners to provide a systematic, reproducible and fully documented whole-breast screening examination. The AWBUS™ screening examination does not use radiation, contrast agents or compression. AWBUS™ uses ultrasound to see through dense-breast tissue and is pain and risk free. For more information:
www.sonocine.com
Contact: Debbie Wiltgen
Tel: 775-851-7474
Email: dwiltgen@sonocine.com