The Arty Water Company Celebrates Launch of ARTY™ Water, the World's First Premium Artichoke Water
Get ready to move out of the mainstream! ARTY™ Water is a rising star that offers a healthy, great tasting alternative to fruit-based water beverages. Made from fresh California artichokes, every bottle contains powerful antioxidants, essential vitamins and minerals.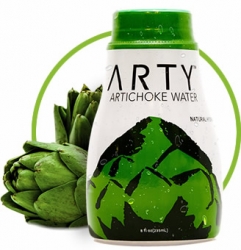 Newport Beach, CA, June 23, 2014 --(
PR.com
)-- After two years of product development and nutritional research to leverage the nourishing benefits of fresh artichokes, the Arty Water Company today announced its launch on Amazon.
ARTY™ Water made its debut at the 2014 Natural Products Expo West in Anaheim and was nominated as a finalist for "Best New Product of 2014." More recently at the Healthy Beverage and World Tea Expo in Long Beach, ARTY™ Water was selected as one of the
top 5 rising beverage brands
addressing unmet needs from hydration to digestive health.
ARTY™ Water is setting the bar with a premium water made from fresh California artichokes and natural flavors lemon, apple, monk fruit and spearmint. The product is sold on Amazon.com as a 4-pack and a 24 pack of 8-ounce, "Made With Love From California Artichokes" bottles. ARTY™ Water can soon be found across the country in major retailers and many health and fitness establishments.
ARTY™ Water has a mission to educate and offer consumers water-based vegetable products that leverage the artichoke's healthful phytonutrient and mineral properties into every bottle. Most consumers love artichoke hearts but are missing key nutritional benefits from the outer leaves. ARTY™ Water has patented a process that is able to use whole artichokes and pack each bottle with antioxidants such as silymarin and chlorogenic acid, vitamins and minerals.
"We have put tremendous passion and effort into bringing this nutritious, multifunctional water to the marketplace and believe it will become a major global player in the premium water beverage category for both adults and children seeking great tasting alternatives to coconut water and fruit juices," said CEO Howard Ketelson, Ph.D. "When we started the company working out of a homemade test lab kitchen and sampling the product at cafes and fitness clubs, we immediately knew the product had a significant "Wow" factor. ARTY™ Water offers tremendous benefits over fruit-based beverages with lower sugar and calories. It is exciting to provide a product with the multifunctional nutrition benefits from artichokes to consumers looking to improve their lives and their family's health."
ARTY™ Water is self-distributed and headquartered in Newport Beach, CA. For more information, please see
www.artywater.com
or email
info@artywater.com
.
Contact
The Arty Water Company
Kevin Kian
888.494.5272 OR 229.344.2724
www.artywater.com
Barbara Chancey
Communication & Marketing
Barbara@artywater.com

Contact