TwinXL.com Releases Whole New Line of College Comforters
The latest comforter line featuring all new patterns and designs in college extra long.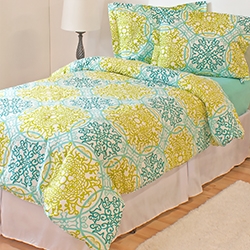 Blaine, MN, July 01, 2014 --(
PR.com
)-- TwinXL.com the leader in dorm bedding, recently released its whole new line of Ivy Union comforters that include the Catalina, Ferrara, Venice, Melrose and Pisa. These comforters expand out from the norm and take on a whole new meaning of bold. These comforters were built with a 100% microfiber shell and specially dyed to prevent color fading or pilling. The reason why they're so comfortable is that they are filled to the brim with polyester fibers. They feature designs of both bright colors and dark floral designs. Each comforter is unique in its own way and adds a whole new dimension to college dorm bedding that is sure to catch some eyes.
They introduce these new prints just one year after Ivy Union established themselves with their line of solid comforters. Now with the addition of these and the comforters that are set to be released a month from now, they offer a comforter for just about everybody. Whether you prefer to keep it simple with the solid colors (Silver, Navy, Red, etc.) or like to make a statement with these new prints you'll find something perfect for you at TwinXL.com
Catalina Twin XL Premium Comforter Set features a lime green and turquoise pattern that has circular links of both colors that travel across the comforter and dazzle the eye. It is sure to brighten up any old room. It also comes with a matching sham of similar design and color.
Ferrara Twin XL Premium Comforter Set tells a tale of elegance and class with its lavender and black pattern inside congruent white diamond shapes. This comforter looks great with either a pair of purple sheets, white sheets or even black sheets! It also features a matching sham of the same pattern.
Venice Twin XL Premium Comforter Set goes in the opposite direction with its dark floral pattern. It has a shade of magenta background with black roses covering. This looks perfect with any black or pink sheet and is sure to turn some heads. Features a matching sham of the same pattern as well.
Melrose Twin XL Premium Comforter Set takes bold to new heights with this orange, purple and pink chevron pattern. Stare at it too long and it looks as if it's moving. This new comforter set makes any bed absolutely pop. Features a sham that crosses the comforters pattern that draws even more attention.
Pisa Twin XL Premium Comforter Set spouts a similar pattern as the Melrose but takes a new route with its turquoise and lime green color. Every designer knows that the chevron is in today's fashion and this comforter takes it to a whole new level. It also contains a chevron patterned sham that crosses the opposite direction for more texture.
These new comforters are just the thing to snag going into your first year of college. If you want to make a first impression then these new bold bed sets might just do the trick. Not only do they look incredible but they're selectively made with high quality, luxurious materials. Now consumers can enjoy the look of an amazing comforter as well as the look!
Contact
TwinXL.com
Josh Pribyl
888-894-6951
www.twinxl.com

Contact