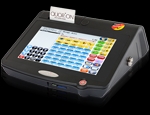 Boca Raton, FL, July 18, 2014 --(
PR.com
)-- QUORiON, the German POS system manufacturer, plans its USA market entry at the 2014 Retail Now show in Orlando come August. Over the past 15 years QUORiON quietly established a distribution network in over 70 countries. During this time the USA has remained as one of the few remaining frontiers for the company. "Our international experience has allowed our product line to evolve substantially from our modest beginnings. We started with one electronic cash register model and now offer an extensive range of Point of Sale products - everything from small, fiscal cash registers to modern touch screen
POS systems
and apps," Mr. Patrick Grueschow, QUORiON VP of Marketing explains. "We have faced tough competition from Asian and North American vendors in virtually every country, which drove our product development. The remaining hurdle for the USA had been the credit card processing, which differs substantially in the USA compared to Germany, for instance. Now that we have Monetra on-board we have the flexibility to address processing needs in almost any country of the world. As a result, we feel confident to undertake this new US venture."
The Monetra® payment processing software securely links point of sale directly to all major transaction processors for performing credit card transactions. Merchants will be able to either run the software locally or take advantage of hosted Monetra® gateways certain processors such as SecureNet offer. With the Monetra® integration and a processing agreement with SecureNet, QUORiON has found a secure method to implement credit card transactions into its embedded POS systems without any additional software installation on its POS terminals. QUORiON's proprietary OS and Monetra's® end-to-end encryption provides a secure processing platform. "As opposed to embedded systems, PC based POS systems tend to suffer from a variety of security problems such as malware, data theft, software vulnerabilities, and what have you," Mr. Matthias Hesse, QUORiON's head of R&D asserts. "Embedded systems have the upper hand here. Add Monetra® and the POS system never actually handles any payment information," Mr. Hesse declares.
The new QTouch 8 and Android POS system will unquestionably present the highlight at QUORiON's RSPA booth. Both product lines will enjoy their international launch this fall. The QTouch 8 shines as a cross over model between the mobile and traditional POS worlds. With its 9 inch touch screen display, integrated printer, and small foot print, it speaks to small businesses who want a traditional touch screen POS system. Conversely, QUORiON's Android POS system caters to those, who wish to adopt mobile POS technology on small screens or 10 inch tablets.
Moreover, US vendors will surely have a close look at the QTouch 10 – the all-in-one POS system QUORiON launched in 2012. "The QTouch 10 is one of my favorites. We tried to make the owner's life as simple as possible. Integrated POS peripherals means, no set up, no compatibility issues, and everything from one vendor," Mr. Grueschow explains.
All of QUORiON's embedded POS systems come with the QMP POS software as standard. Even the Android POS system runs it. "We ported our POS software with all its 20 years of experience directly onto the Android platform. We did not have to reinvent the whole thing and can offer the full feature set. Even now, many POS apps are still struggling along with minimal POS features," Mr. Hesse states. "That's a problem we don't have." QMP allows QUORiON POS systems to function in various business sectors such as retail, food service, bakeries, dry cleaning, or salons. A selection of customization options and system parameters allows end users to program an exact fit to their business.
The company even intends to showcase its PC POS system for those that prefer to stay with PC technology. All in all, the company seems to offer something for everyone.
In case you make the track to the 2014 Retail Now show in Orlando, you will find QUORiON at booth number 930.