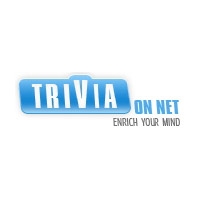 Tel Aviv, Israel, October 22, 2007 --(
PR.com
)-- The popularity of trivia games is about to reach new heights as
TriviaOnNet.com
launches a state of the art multi-player software, the first of its kind to pay cash prizes and offer jackpots. With a huge inventory of questions wrapped in eye-pleasing flash animation, TriviaOnNet's software is every trivia buff's dream: An opportunity to win great cash prizes and make money out of common knowledge in popular topics like sports, movies, tv, and music. The General Knowledge games include all-time favorites such as history, geography, politics, and more. Each of the major topics include real money games with various enter fees and prizes, as well as games for free practice.
Easy to play and easy to win, the trivia games on TriviaOnNet's are fast paced and exciting: played against other community members, the object is to reach the highest number of correct answers within two minutes. The games include questions of all levels and offer fun features as in popular tv game shows such as skipping a question, or cutting the number of possible answers. As the first to offer real money trivia games online, TriviaOnNet.com is also proud to introduce jackpot trivia games, where only 15 questions stand between the player and thousands of dollars.
In addition to exciting action and great prizes, TriviaOnNet.com is also a fantastic place to meet new people and make friends. The website and game chat are where music lovers, sports fans, tv and film buffs and general knowledge enthusiasts all come together and connect. The networking tools on the site – the blogs, video and file sharing, comments and friends list – are a great way to reach new people with similar taste and interests. Members are welcome to form their own groups about specific subjects, and even create their own questions and games where they can challenge each other.
New joiners to this friendly and competitive community get a $2 gift, just for signing up. With games entry fee starting as low as 50 cents, players can start playing real money games right away. On their first deposit, players get a 50% match bonus up to $500! Other exciting promotions include special giveaways, where players stand to win cash money in a free game.
Additional cool features that contribute to a superior game experience include the game history record where players can revisit old games and go over them, question by question. A quick warm-up before the beginning of a game is another great feature that sets the players in the right mood, and the ambiance is complete with a selection of two types of background music: a relaxing, mellow tune for easy-going games, or a jumping electronic beat that fuels an energetic feel and combat spirit.
Sporting crisp graphics, a wide selection of games, and attractive promotions, TriviaOnNet's game software is continuously winning over trivia lovers, and becoming the biggest trivia community online. Outstanding design and top quality performance guarantee that the members of TriviaOnNet.com are enjoying the best trivia software available today.
###