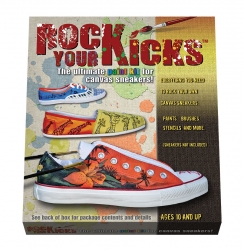 Los Angeles, CA, July 24, 2014 --(
PR.com
)-- Rock Your Kicks Corporation, the developers of the first custom DIY Paint Kits of it's kind, is pleased to announce the release of it's first in a series of paint kits for canvas sneakers.
Rock Your Kicks DIY Custom Paint Kits for canvas sneakers is a long-awaited product for this market.
"All the major players in the sneaker industry have jumped on board the phenomenon by offering custom silk screening on their websites, but we have increased the creative possibilities by making a kit so people can paint their own sneakers. You don't have to be an artist to use the kits either. The original stencils will allow kids and young adults to customize their own sneakers using the private label paints and supplies provided in the kit, as well as an exclusive on-line community websites for the many custom sneaker artists popping up around the world," says the founder of Rock Your Kicks, Pepper Carlson.
Rock Your Kicks plans to grow this community with spin off kits, specialty kits and many surprises to come.
Check them out at rockyourkick.org