Global Facility Management & Construction Kicks Off Annual Charity Initiative: Global Gives Back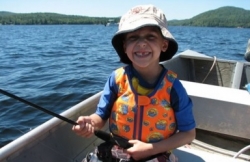 Melville, NY, August 19, 2014 --(
PR.com
)-- Global Facility Management & Construction has named "J.A.C.K.: Join A Cause for Kids" as the first recipient of their "Global Gives Back" initiative, an annual charitable program designed to give back to the community. Sean and Lauryn Blank will present the donation to the charity's founder in memory of his son, Jack Perlungher during Global's 10 Year anniversary summer event, to be held at Driftwood Day Camp in Melville, Long Island on Sunday, August 24th.
J.A.C.K., Join A Cause for Kids, is a 501c3 not-for-profit organization whose mission is to raise money for children and their families who are experiencing financial hardship as a result of serious illness or personal tragedy. Jack Perlungher was diagnosed with a Wilm's tumor, a rare form of cancer at the age of 4. The strength and courage that Jack displayed during his 13 month battle with the disease inspired many people to go out and do wonderful things to help others. In spite of everything that was against him, Jack always managed to show a zest for life, visible through his ever present "Million Dollar Smile".
About Global Facility Management & Construction
Global is the leader in the facility management industry performing superior remodel, rollout, repair, cleaning and construction services throughout the United States and Canada. Operating with its own proprietary software, Global offers their clients free access in real time to view all work orders, reports, budgets and other relevant information. In addition to Global's relationships with more than 10,000 technicians around the US and Canada, Global also self-performs services throughout major cities in the US allowing them to offer the lowest possible prices and the highest level of communication with the most reliable technician performance in the industry.
Learn More about Global:
http://vimeo.com/87086138
http://www.GFM247.com
Contact
Global Facility Management & Construction
Robin Baskin Ladner
866-213-2337
www.GFM247.com

Contact