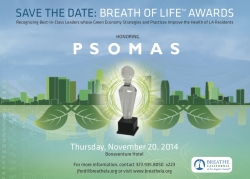 Los Angeles, CA, August 27, 2014 --(
PR.com
)-- Breathe California of Los Angeles County (BLA) is pleased to announce the 2014 Breath of Life Awards Gala, scheduled for Thursday, November 20, 2014 beginning at 6pm at the Westin Bonaventure Hotel in downtown Los Angeles. The Breath of Life Awards Gala is a prestigious annual event recognizing individuals, corporations and civic leaders for their successful leadership in supporting clean air and healthy lungs.
This year, Psomas will be awarded as the Breath of Life Award Honoree. This is the highest honor that BLA bestows upon an individual or corporation for successful leadership in support of the mission to promote clean air and healthy lungs. This award was presented to The Boeing Company in 2013.
"We are very excited for this year's Awards Gala to put a much needed spotlight on the importance of clean air and air quality in Los Angeles," said Enrique Chiock, CEO of BLA. "With instances of asthma and COPD on the rise, and the increasing focus on the use of community energy resources, it's a critical time to be thinking about ways we can improve the quality of life for residents in Los Angeles and beyond."
During the gala, guests – including 300 local business leaders, civic leaders and representatives from the environmental, labor and health sectors - will enjoy an awards reception, silent auction and dinner. Proceeds from the gala support BLA programs that support individuals and communities in need, addressing issues including TB, COPD, environmental education, lung disease, asthma, tobacco, access to services and more. Programs are multi-cultural, multi-disciplined and tailored to specific age ranges and cultural backgrounds.
Past Honorees include The Boeing Company, LA/OC Building & Construction Trades Council, Lt. Governor Gavin Newsom, Southern California Gas Company, Los Angeles Times Publisher Kathryn M. Downing, Toyota Motor Sales USA, BMW Group, American Airlines, Governor Arnold Schwarzenegger, Union Bank CEO Masa Tanaka, California State Secretary for Resources Mary Nichols, Consul General of Mexico José Angel Pescador Osuna, and more.
To purchase tickets, please visit breathela.org/breathoflifeawards.
For more information about the Breath of Life Awards Gala sponsorship, contact Joan Ford at 323.935.8050 x223 or visit breathela.org.