Devils Backbone Brewing Company Earns Top Honors at the 2014 Virginia Craft Brewers Fest
Devils Backbone Brewing Company earns medals for their beers.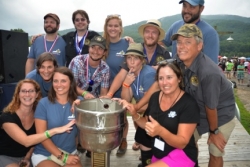 Lexington, VA, August 27, 2014 --(
PR.com
)-- Devils Backbone Brewing Company is a regional Craft Brewery with two locations in the Virginia Heartland. The Devils Backbone Basecamp Brewpub, a full service restaurant with on-premise brewery, opened its doors in 2008 in Nelson County, VA and the Devils Backbone Outpost Brewery, a full-scale production facility and taproom, began operations in 2012 in Lexington, VA. Steven Crandall founded the company and Jason Oliver leads the brewing operations. At their Basecamp Brewpub, they have crafted well over 100 different styles of beer, approximately 15 of which have been scaled up for production and distribution from the Outpost facility. The company currently distributes its beers through wholesalers across Virginia, Washington DC and in Maryland. In its five-year existence, Devils Backbone has been awarded 30 medals at the Great American Beer Festival and the World Beer Cup, and 20 medals at the Virginia Craft Brewers Fest. Additionally, Devils Backbone earned two national titles, 2013 Small Brewing Company & Small Brewing Company Brewer and 2012 Small Brewpub & Small Brewpub Brewer of the Year at the Great American Beer Festival. Devils Backbone has earned one international title for the 2010 Champion Brewery and Brewmaster Small Brewpub at the World Beer Cup. Their Basecamp Favorites flagship Vienna Lager won gold medals at both the 2012 Great American Beer Festival 20 and the 2012 World Beer Cup.
Photo: Left to right bottom row: Alexis Goldstein, Brittany Crandall, Heidi Crandall,Left to right middle row: Jean Hazelwood, Josh West Senior Brewer- April Anderson, Founder Steve Crandall,Left to right top row: Head Brewer –Nate Olewine, Pilot Brewer – Aaron Reilly, Casey Nye, Hayes Humphreys, Senior Brewer – Josh French
Media inquiries can be directed to Marketing Director Heidi Crandall at Heidi@dbbrewingcompany.com
Contact
Devils Backbone Brewing Company
Heidi Crandall
434.760.3360
www.dbbrewingcompany.com

Contact