Author Tab Edwards Releases a New Book on Managed Print Services: MPS for Buyers
The new book is intended for organizations with an interest in MPS. It offers expert Insight, recommendations, and best practices for those organizations implementing or considering the purchase of MPS or other similar Imaging & Output solutions.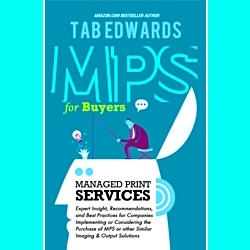 Philadelphia, PA, August 28, 2014 --(
PR.com
)-- Amazon.com Bestseller author and Water Group Principal Tab Edwards has released his tenth book - and his second book on the topic of Managed Print Services (MPS). His first, "MPS: Managed Print Services," was an Amazon.com Bestseller. His latest was written to help prospective purchasers of the MPS solution navigate its hidden complexities toward a positive outcome.
According to Edwards, "At The Water Group, we often work with companies that are investigating the potential of MPS, are in the process of deciding on the solution and a solution provider, or have already purchased the solution. Far too often, these companies struggle with aspects of the offering, have serious questions about it, or need help moving forward with MPS. It is these types of support-needs on the part of the buyer that prompted me to write the book; it is intended to help buyers at all stages of the MPS buying cycle."
As a solution, Managed Print Services promises wonderful cost and efficiency benefits if executed effectively. If done poorly, however, purchasing and implementing the solution can negatively impact an organization. "MPS can be a complex solution to purchase and implement," says Michael Maupin, a Principal with The Water Group and the founder of MBI. "Not being aware of the potential pitfalls and best practices for purchasing and/or implementing the solution can leave the buyer with a solution and an experience that are underwhelming or even regretful."
"Through 'The Expert Lounge,' we see the need for the kind of information the book provides every day," says Edwards. "With this new book, 'MPS for Buyers,' everyone now has the opportunity to benefit from the challenges and experiences of their peers toward a positive MPS outcome."
"The Expert Lounge" is a free service offered by The Water Group where business professionals can receive answers to their questions and expert advice on their situations in the areas of Strategy, Business Process Improvement, Managed Print Services, and Sales. The Lounge can be accesses through The Water Group website Water215.com.
"MPS for Buyers: Managed Print Services" is available through The Water Group website and wherever books are sold.
Contact
The Water Group
Carol Suber
877-880-2754
Water215.com
info@water215.com

Contact