Mountaineer Casino Claims Ice Bucket Challenge Record
Chris Kern, general manager of Mountaineer Casino, Racetrack & Resort, and his executive team braved 400 gallons of icy cold water to raise $1,050 for the ALS Association.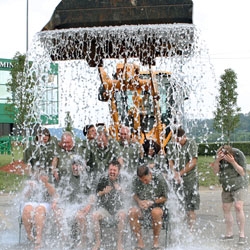 Chester, WV, August 28, 2014 --(
PR.com
)-- Mountaineer Casino, Racetrack & Resort officials claim to have set the record (at least locally) for the biggest bucket of ice in the Facebook craze that has swept the nation raising money for charity..
While most people perform the challenge with a standard five gallon bucket of icy water, the casino executives wanted to do something bigger, flashier and in true casino-style flair; so they were doused with a Hyundai HL-730-9 front loader filled with more than 400 gallons of ice and water.
As part of their participation in the charity event the executive team donated $1,050 to the ALS Association.
Part of the process is to call out others to donate and/or participate in the Ice Bucket Challenge. Kern forwarded his challenge to Mountaineer's corporate office members, including MTR Gaming President and COO Joseph Billhimer, as well as the members of the Hancock County Board of Health, who recently voted to ban smoking at the casino in a controversial decision.
Participants of the executive team who participated in the ALS Ice Bucket Challenge include Chris Kern, General Manager; Jody Madigan, Assistant General Manager; Garth Wilcox, Senior Director of Property Management; Jason Pugh, Director of Slot Operations; Jim Shuler, Director of Hotel Operations; Jim Dunlap, Director of Surveillance; Lesley Campbell, Director of Marketing and Public Relations; Mary Lou Pietranton, Executive Administrative Assistant; Nick Mavromatis, Director of Player Development; Rose Mary Williams, Director of Racing; and Vince Azzarello, Director of Human Resources. Also contributing to the ALS donation are John Chill, Director of Finance and John Murphy, Senior Director of IT.
The group of 13 executive managers were called out to participate in the challenge by Scioto Downs Racino, Mountaineer's sister property located in Columbus, Ohio.
To view Mountaineer's Ice Bucket Challenge video, visit their Facebook page at
www.facebook.com/MountaineerCasino
or their YouTube channel at
www.youtube.com/MountaineerCasinoWV
.
About Mountaineer Casino, Racetrack & Resort
Mountaineer Casino, Racetrack & Resort is located in Chester, WV. Mountaineer Casino features slot machines, table games, live poker tables, a thoroughbred racetrack, an upscale hotel with amenities, golf course, fine dining and entertainment, a theater and events center, and a convention center. Visit Mountaineer at
www.MoreAtMountaineer.com
or call 800-804-0468.
Contact
MTR Gaming Group Inc
John Murphy
304.387.8355
www.moreatmountaineer.com

Contact