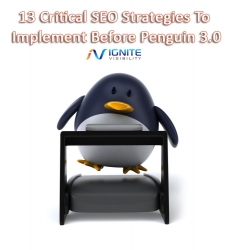 San Diego, CA, August 30, 2014 --(
PR.com
)--
Ignite Visibility
, a premier Internet marketing company focusing on SEO, social media, CRO, pay per click and more, has released 13 critical SEO strategies to implement before the next Google Penguin update.
"Each Google Penguin update results in large fluctuations in search results. For some businesses, this can mean significant gains or losses in traffic and revenue," said John Lincoln, President of Ignite Visibility and Teacher at UC San Diego Extension. "There have been 5 revisions of the Penguin algorithm thus far. However, the more recently released version was labeled 2.1 by Google. Generally, Penguin updates influence up to 3.1% of queries on the first two pages of Google. This is a big deal for online businesses. New studies show that on average websites drive approximately 51% of their traffic from organic search. Because of this, we released 13 SEO strategies all websites should implement before the next Penguin update goes live. We recommend all websites take a look at this list and make any changes they can."
According to Ignite Visibility, here are some of the Google Penguin 3.0 SEO strategies you should focus on. Not every SEO recommendation is Penguin update specific; however, they are all necessary.
1. Audit Meta Tags
2. Reduce Keywords Stuffed In Content & Improve Quality
3. Cut The Keywords Stuffed In Alt Tags, Titles, Captions
4. Audit Excessive Footer Links With Anchors
Read the full list of Penguin 3.0 SEO strategies now
.
http://ignitevisibility.com/13-critical-seo-strategies-implement-penguin-3-0/
Ignite Visibility offers further information the Google Penguin algorithm.
· Penguin is part of Google's algorithm, however, it is only run periodically. The last update was run October 4, 2013.
· The Penguin update was mainly focused on websites that had tried to manipulate Google's algorithm by purchasing or creating backlinks to their website. However, it also focused on onsite SEO issues, such as keyword stuffing.
· Google has announced all Penguin updates to the public.
· The Panda update was aimed at websites that provided a poor user experience.
About Ignite Visibility
Ignite Visibility has a vision to be the most innovative, effective and honest Internet marketing company in the world. With a low client to project manager ratio, Ignite Visibility provides high-touch expertise to each client to ensure maximum results. Learn more about Ignite Visibility and their completely customized and advanced Internet marketing strategies. http://ignitevisibility.com