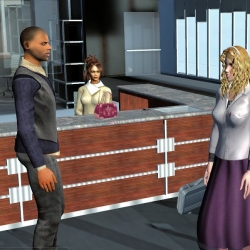 Hollywood, CA, September 03, 2014 --(
PR.com
)-- The internet web series, "The Black Larry David," (http://www.imdb.com/title/tt3837028) launched its third episode with two talented guest stars performing voiceover roles.
Hollywood veteran Elaine Ballace, known for her work in "Robin Hood: Men in Tights," "Dracula: Dead and Loving It," and "The To Do List," voices the sassy Security Guard who torments the lead character.
Scotland born, London based Catherine Balavage, known for her work in "Downton Abbey" and the Emmy® Nominated Edris Elba series "Luther," portrays Susan Grier. In addition to her acting, Catherine is a published author and Huffington Post UK blogger.
The Black Larry David is a computer generated animation series produced by Dwacon Entertainment. This and other properties are located at http://dwacon.com and via the Dwacon YouTube Channel (https://www.youtube.com/dwacon).
Contact:
Dwayne Conyers
324 S Beverly Dr # 493
Beverly Hills CA 90212-4801
(866) 233-6165
Dwacon Entertainment
http://dwacon.com
The Black Larry David Episode 3
http://youtu.be/Qg6AY3imL1k
Elaine Ballace
http://www.imdb.com/name/nm0050507
Catherine Balavage
IMDB Page: http://www.imdb.com/name/nm2952107