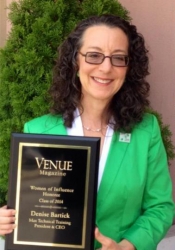 Cincinnati, OH, September 05, 2014 --(
PR.com
)-- Denise Bartick, Owner of MAX Technical Training Inc., MAE Consulting Inc., and TrueNorth LLC was among 30 honorees awarded the 2014 Women of Influence award by LEAD magazine on August 20th. The award gives praise and recognition to Greater Cincinnati women who have dedicated themselves to bettering their communities and companies.
Denise is an active participant in community involvement. Both personally and through her companies, she continually gives support and services to help people and non-profit organizations prosper.
"Helping people succeed and the IT community thrive and grow is one of my most basic goals. I am honored to be recognized for something that I enjoy doing," says Denise Bartick, President and CEO of MAX Technical Training.
About MAX Technical Training
Established in 1998, MAX Technical Training serves corporate clients and technology and business professionals across the globe with training and consulting that makes information technology and business processes hum, increasing bottom line performance.
MAX is an award-winning leader in delivering education in IT and business technologies including: ITIL, IT Security and Networking, Mobile, Web, Server and Database Development, Business Analysis, Project Management and Leadership Development. MAX instructors are subject matter experts and consultants who connect face-to-face with students, providing retentive learning using real-world applications and problem solving in the curriculum.
MAX is a Microsoft Gold Certified Partner for Learning Solutions (CPLS), a Cisco Learning Solutions Center sponsored by Sunset Learning Institute, an ITIL Licensed Affiliate and a founding member of EPIC Learning. MAX is a Small Business Enterprise and Certified WEBNC (Woman Business Enterprise National Council).
For more information, visit
www.maxtrain.com
.