VIRUN® NutraBIOsciences™ Granted Patent 261124 in India, Redesigns Website, Omega-3 Summit at Supply Side West and CEO is Again Scheduled to Speak at Cal Poly Pomona
VIRUN has been granted patent number 261124 titled, Compositions Comprising a Mucoadhesive Protein and an Active Principle for Mucosal Delivery of Said Agents. Also, VIRUN has re-designed their website to include brands, a product description page, video as well as a news and PR page. Included in the newly renovated website is an events page; with the growing interest in VIRUN, such as scheduled forums, lectures, expos and webinars, it was imperative this new website share these experiences.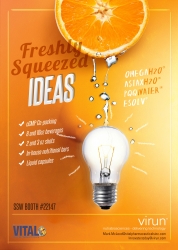 Walnut, CA, September 11, 2014 --(
PR.com
)-- It's been a busy summer for VIRUN and many new, exciting events have transpired; including yet another global patent grant, patent number 261124, in India. This patent is directed toward improving the delivery of compounds and peptides by conjugating them to delivery proteins, such as Lactoferrin/Transferrin's, Immunoglobulins and/or Albumin. The technology utilizes a protein, for example Lactoferrin, conjugated to a compound or other protein in order to bypass stomach digestion and enzymatic degradation; ultimately, increasing the overall oral bioavailability and site specific cell targeting. Also, to commemorate over 10 years of VIRUN innovation, VIRUN released a new website that is intended to elaborate VIRUN's products, brands, events, news and successes. The new website will be continuously updated in order to invite others' to join VIRUN events, lectures, expos, forums and webinars.
Mucosa Adhesive Penetrating Technologies (MAPT) – Receptor Mediated Endocytosis
VIRUN is more notably recognized for developing technologies that improve the delivery of non-polar compounds, for example Omega-3 EPA and DHA, Curcumin and Astaxanthin, into food and beverage applications. However, VIRUN's core competency stretches further than simply the delivery into beverage applications. VIRUN has several patents and patents-pending technologies utilizing receptor mediated endocytosis compositions enabling improved bioavailability and pharmacokinetics of compounds that do not absorb well, or are not stable. The deliverable compounds have therapeutic effects and include non-polar compounds, proteins, peptides, and probiotics. The first MAPT patent application was filed in 2005 delivering an astonishing 61% Human Insulin into blood plasma compared to i.v. injection. The mechanism and composition follows the same natural framework as iron absorption. As the Transferrin delivers the iron into the cell, the delivered agent also mediates into the cell.
VIRUN® NutraBIOsiences™ - New and Interactive Website
VIRUN has largely surrounded itself by the research and development of these unique, patented, delivery technologies and have not focused their efforts on marketing. VIRUN's websites and marketing attempts have been more so directed toward gaining credibility within industries and assuring patent protection. VIRUN's initial website was under the name, Archimedes Laboratories back in 2003. The name was changed to VIRUN in 2004 representing VIRUN's focus on pharmaceutical delivery technologies utilizing transfection to Transferrin's and other anti-viral delivery ligands and nanotechnologies. Their preceding website including their new name, VIRUN, represented a virus crossing a cell. In 2007, yet another website was engendered that was the first reflection of VIRUN's introduction into the food, beverage and supplement space using clean-label claim ingredients. This website included on their home page an actual picture of a nano-encapsulated Omega-3 EPA and DHA into water – shortly after, VIRUN was named one of a few "companies to watch" by NutraceuticalsWorld. In 2012, VIRUN's CEO's 6-year-old daughter, Larissa Bromley, painted the new VIRUN website to celebrate innovation and fresh thinking. This concept was used to show industry the need to be open-minded and accept new ideas; sometimes swiping-clear what we understand and thinking with a clean-slate helps foster innovation. In 2014, to commemorate over 10 years of innovation, VIRUN releases their first website displaying their 11 years of leadership in delivery technologies and lending insight toward the efforts VIRUN's management team are involved in, such as university cooperation's, webinars, expos; and for the first time, promoting their brands.
Supply Side West Expo and Upcoming Omega-3 Summit Forum
VIRUN and Vital Pharmaceuticals will exhibit their technologies and new product developments at the upcoming Supply Side West Expo and Conference, booth number 22147. Visit VIRUN and Vital Pharmaceuticals' scientists' on October 8th and 9th as they make you Omega-3 EPA and DHA OmegaH2O® clear beverages or smoothies right-before-your-eyes using different flavor combinations. Try VIRUN's PQQwater™ beverages or CoenzymeClear™ shots at one of their three Tiki Bars. In the afternoon, VIRUN and Vital Pharmaceuticals will be serving Omega EPA and DHA chocolate chip pancakes with levels up to 1000 mg EPA and DHA per pancake. Join VIRUN and industry leaders discuss Omega-3 trends, delivery technologies, stability and new product developments at the 2014 SupplySide Omega-3 Insights Summit starting Tuesday, October 7th at 1:30pm. For more information, please visit SupplySide Omega-3 Insights Summit website, sponsored and underwritten by VIRUN.
Industry Workshop Series Lecture, Cal Poly Pomona
VIRUN collaborates with California State Polytechnic University, Pomona to help boost innovation and entrepreneurship. VIRUN CEO Philip Bromley donned a tuxedo and top hat for his last lecture at Cal Poly Pomona in April in an effort to show students that science and innovation can be fun. What will he conjure up at his Industry Workshop Series lecture on October 24? Visit www.VIRUN.com for more information.
About VIRUN:
We are a Nutra-BioSciences™ company formed in 2003, headquartered in Walnut, CA, with an emphasis on safe and effective delivery technology for pharmaceuticals, dietary supplements, foods and beverages. Our aim is to focus on delivery both to the human body, via improving the efficacy of nutrients utilizing our patent and patents pending technologies. VIRUN's pharmaceutical and dietary supplement technologies allow improved bioavailability through nanotechnology and Transferrin conjugation that target specific cells within the body. VIRUN's Esolv™ and DPtechnology™ allow water-insoluble nutrients to be clear, water-soluble and stable in food, beverage and supplements. VIRUN's innovative solutions and brands include Omega-3 EPA DHA branded as OmegaH2O®, Resveratrol, CoQ10 branded as CoenzymeClear™, Astaxanthin branded as AstaxH2O™, PQQ branded as PQQwater™, Lutein, Phytosterols and Curcumin. Virun is a fully integrated research and production facility with manufacturing in California and finished product processing in Florida.
VIRUN
PR Director - Stephanie Bromley
(909) 839-0629
email: stephanie.bromley@VIRUN.com
www.VIRUN.com
Contact
Virun, Inc.
Stephanie Bromley
909-839-0629
www.virun.com

Contact
Multimedia

Contact VIRUN to incorporate new and fresh ideas for ingredients in your food, beverage or supplement application. Contact VIRUN to stabilize Omega-3 EPA and DHA, Phosphatidylserine, Curcumin, PQQ, Resveratrol and more into functional water, juices or smoothies that are shelf stable and taste great.
Contact VIRUN today to add non-polar compounds, Oil, Omega 3's, colors or flavors to your food, beverage or supplement. No BVO, No Polyol Hydrogenated Castor Oil not approved for direct food use, No Polysorbates