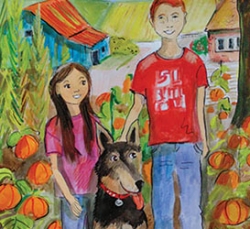 Temecula, CA, September 12, 2014 --(
PR.com
)-- If you've noticed that young families seem to flock to your local pumpkin patch each fall in ever-growing numbers, you're not alone. Americans make their yearly pilgrimage to the farms by droves. Children and parents, alike, crave the experiences: the corn maze, the hayrides, the scarecrows, the pony rides, a day spent outdoors in the fresh air.
One Southern California indie author, Shana Gorian, is hoping to gain some momentum from this trend, with her new release in juvenile fiction, "Rosco The Rascal Visits The Pumpkin Patch." She has written an adventurous story for children ages 6-8, that takes place at a pumpkin patch, with a "do the right thing" moral lesson to boot.
About the Book
In the book, a brother and sister duo ages ten and seven, are excited to explore the corn maze with their German Shepherd, Rosco. Things get rough when they encounter two boys in the maze who are wearing Halloween masks, scaring and picking on children younger than themselves. The brother and sister are faced with helping another child, and then standing up to the bullies. With their trusted dog's help, they do just that.
This book is the first in Shana's exciting new series, entitled 'Rosco The Rascal.' The book is 130 pages long, and contains black and white illustrations throughout, by Irish artist Ros Webb. The title is available on amazon.com and retails for $6.99. The book has captured the essence of many beloved autumn family traditions, including choosing and carving pumpkins for the family porch.
Shana independently published the book through Amazon.com-owned CreateSpace. The second title in the series, "Rosco The Rascal In The Land Of Snow," is slated for a January 2015 release.
Available on Amazon.com and BN.com. Ebook format coming soon.