Scooter Vacations Announces New Model Fantasy for Scooter Rental in Orlando with Over a 500 Lbs. Capacity
ScootOrlando.com, Scooter Vacations, announces their newest luxury Orlando scooter rental model, the Fantasy, which handles over 500 lbs. weight capacity and enough battery power to last a full 12-15 hour day. It can be used by visitors staying at any area resort that has wheelchair transportation including Walt Disney World or Universal Orlando Resorts. It fits on monorails, boats and buses.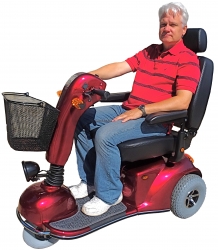 Orlando, FL, September 25, 2014 --(
PR.com
)-- ScootOrlando.com, Scooter Vacations, an
Orlando Scooter Rental
company, is pleased to announce the Fantasy, bariatric scooter rental for Orlando, with a 550 Lbs. capacity for those staying on-property at a Walt Disney World, Universal Orlando or any area resort with handicap bus transportation. The Fantasy fits on boats, buses and monorails, any transportation that can take a wheelchair. It has a luxurious wide captain seat and the largest batteries of any scooter model to provide a full 12-15 hour theme park ride time per day.
"We wanted to introduce a luxury model that had something extra," says Brian Andrew, General Manager of Scooter Vacations. Andrew continues "The Fantasy goes beyond the typical HD (heavy duty) rental models to include a fully reclining seat and front and rear suspension. The suspension delivers the smoothest ride ever. Also, typically a scooter of this caliber is four wheels which is hard to maneuver. The Fantasy not only has the largest batteries available to provide no worries about running out of power, but with three wheels it still allows you to make those tight curves in ride lines!"
To watch a video of how easy it is to ride around and all the features this scooter has to offer visit the company website at ScootOrlando.com. The Fantasy has a nice size front basket and it's own key on a coil wristband for easy keeping. Other special features are:
Fully Reclining Captains Seat
Seat Adjustment Forward and Back
Fully Adjustable Steering Column
Large Headlight
Rear Taillights
Left and Right Turn Signals
Side Armrest Mounted Reflectors
Front and Rear Protector Bumpers
Carpeted Base Floor
Front and Rear Suspension
Battery Power to Last a Full Day and Then Some!
Scooter Vacations has 24 hour customer service and it is always a Scooter Vacations person that answers your call, no matter the time. No other scooter rental company offers this level of service.
Scooter Vacations rents mobility scooters to vacationers visiting the Orlando area and major attractions such as Sea World, Universal Orlando and Walt Disney World and have six mobility scooter rental models, electronic convenience vehicles (ECVs) to choose from based on individual needs; three models that fit in a car trunk and three specifically outfitted for on-property use.
To rent a scooter in Orlando from Scooter Vacations go to
www.ScootOrlando.com
or call 407.705.3705 or toll free US at 1 855 WDW Scoot (1 855.939.7266).
Contact
Scooter Vacations
Jo Ellen Andrew, JA&K Marketing for Scooter Vacations
US and International: 407-705-3705
www.ScootOrlando.com
Toll Free US: 1 855-WDW Scoot (1 855 939-7266)
In the UK: 02079 932302

Contact