Gorgeous Bags Are Available at FashionLanes.com
FashionLanes.com, a leading and trusted manufacturer, wholesaler and retailer of handbags in Downtown, LA, is now offering fashionable handbags on their online catalog, including the hobo bags, evening clutch purses, cosmetic bags, men's wallets and so on.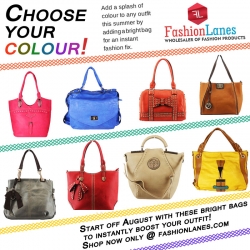 Los Angeles, CA, September 29, 2014 --(
PR.com
)-- Today, FashionLanes.com, a leading bags wholesaler, has proudly introduced its new arrivals of stylish handbags including shoulder bags, hobo bags, evening clutch purses and so on. As an extra incentive, all the incredible items from Fashion Lanes are available at huge discounts up to 20% off.
FashionLanes.com often provides big discounts for its fresh and stylish items. Fashion Lane's goal is to help clients around the world save time and money. At the moment, its owners as well as the staffs are motivated to make this website a one-stop shopping place for its customers who want to be attractive without spending too much.
Elvia, a senior merchandising manager for FashionLanes.com, says "We have collected our largest handbags assortment ever. Among colors, designs, patterns, retro and laptop well-matched, we have every possible handbag conceivable as well as an easy to use website permitting to our customers to find the perfect handbag for any occasion or device."
Fashionlanes.com is a famous wholesaler worldwide when it comes to beautiful and stylish handbags. It is superb for its reasonable stuffs, and a significant number of its merchandise has been known and highly valued by its buyers worldwide. Moreover, all its cheap handbags are of outstanding quality. To find out more, please visit https://www.fashionlanes.com/handbags-c-1.html.
FashionLanes.com is loyal to offering its customers – retail and wholesale – with excellent customer service. Therefore, clients do not have to fear about the service they will receive. In the coming months, Fashion Lanes will continue to expose more stylish and inexpensive products to the public.
About FashionLanes.com
FashionLanes.com is a leading online store specializing in selling
wholesale handbags
, jewelry, watches, sunglasses, scarves, gold plated jewelry, fashion accessories, costumes, beauty products and so on. With a large selection of products available at a low price, the company has been generally known for honesty, high competence and thoughtful services which has been built through long-term relationships with many trades. For more information, please visit https://www.fashionlanes.com.
Contact
Fashion Lanes
Gurinder Singh
213-745-2004
https://www.fashionlanes.com

Contact