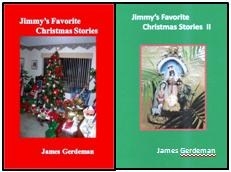 Coral Springs, FL, October 02, 2014 --(
PR.com
)-- James Gerdeman has lived with the rush of excitement found in family and friends when the magic of Christmas sprinkles the dust of joy. This book of short stories brings the magic of the holy season in a variety of settings. Read about Mary Jo's Tricycle, Christmas Tree and Strike, or A Rochester Christmas. Sometimes a story about College Days Christmas will show the meaning of gift giving. Christmas Eve Gift from Mary Jo will show you a surprise. Laugh with the Nonna Goes to Boston or cry with the Tragedy & Miracle of Christmas. Read the good deed in Santa for a Neighbor or listen for the love in Christmas Email. Jimmy's Favorite Christmas Stories II is available for purchase at www.lulu.com in a marketplace filled with other unique surprises.
James Gerdeman's first Book of Christmas "Jimmy's Favorite Christmas Stories" is available. This book of short stories hones in on personal and philanthropic events of the season. Read about Grandma's Jar, The Negligee, or Light wars of Christmas. Sometimes a story about Women's Club $2.00 Santa or South Florida Santa will help make you laugh and maybe even cry. Laugh with the Big Tree Party or cry with the Remote Christmas Blues or Christmas Tree for the Yard. Maybe go high tech with High Technology Christmas. 08/23/2014
Link to Publication*: www.JDGerdeman.com for links to Jim's Storefront on www.lulu.com
About Author
James Gerdeman earned an Industrial Engineering degree from the University of Dayton. He wrote Tea Party Steeps for a Stronger America to help uniformed voters. His book Jimmy, about boys growing up in the 50's, has entertained many. Smoke Signals You Too Can Quit shows his diversity. His first book, Radio Frequency Identification Application 2000, was published by Research Triangle Associates. Jim has always supported technology for society. He has 12 books to his credit in a variety of topics. He is a speaker and likes to talk about his books, productivity and issues of the day. There is more information at www.JDGerdeman.com.