Fire Up Your Creativity with SPY (NYC Spark Your Creativity)
NYC Spark Your Creativity (SPY) is photographer Roberta Fineberg's experiential adventure hosting 99 photo workshops in NYC to boost creativity in over 500 participants of all ages, backgrounds, career paths, and from all over the world. SPY has reached its goal of 99 workshops - now at #103 and counting. SPY is launching customized group and private sessions.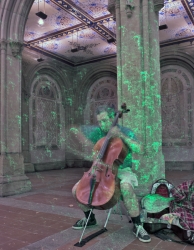 New York, NY, October 03, 2014 --(
PR.com
)-- 'Sapere vedere' is an Italian expression, literally translating to "knowing how to see." For the launch of Spark Your Creativity (SPY) for groups, founder Roberta Fineberg uses photography as a medium for boosting creativity in a customized group experience geared towards enhancing discovery, imagination, and sapere vedere to develop skills that benefit professional achievement and personal satisfaction. SPY offers not only a photography lesson but also a journey to unleash each participant's potential to be creatively adventurous, while building skills that can be successfully used in the workplace, including team building, strategic problem solving, and overall professional development.
Before SPY, Roberta Fineberg created Images and Words, a class that emphasized learning language through images, discussion, and storytelling. "By integrating writing, art, photography and technology," Ms. Fineberg explains, "the SPY methodology encourages a creative and analytical approach to problem solving." Fluent in French, proficient in Italian, combined with English, her native language, Roberta Fineberg concurs that "SPY attracts audiences from around the globe."
With a dslr, point and shoot, or iPhone, participants are led on an inspirational photo hunt to discover unknown and known treasures of New York City, using the rule of thirds, negative and positive space, while exploring intuition and personal vision. Photo techniques assist participants in creating amazing results, while the focus on composition opens minds to fresh perspectives for capturing the essence of surrounding environments. The sessions not only teach ISO, shutter speed, aperture settings, shooting in manual, highlights and shadows, depth of field and other essential components - but also SPY finds the source of students' creativity and helps them tap into new ways of thinking. SPY techniques provide creative yet feasible strategies that can be implemented immediately, say, in the boardroom, classroom, in the office, at workplaces or in organizations.
With over 102 workshops and counting, reviews from attendees have been overwhelmingly positive, citing the benefits of a SPY workshop:
"I'll never look at photography and taking pictures the same after my workshop with Roberta." ~ Delphine, after a 2-hr private night photo workshop;
"I received a camera for my birthday and a class at NYC Spark Your Creativity...and it was such a great experience that I keep going back. Every class teaches me something new and allows my creativity to flow a bit more. Roberta is a magnificent teacher - patient, kind, funny, and sincere! I would recommend for everyone - from beginners to seasoned individuals. You can fly solo, with friends or with your partner. This is a great opportunity to learn new things, take great pictures, explore New York and meet new & interesting people. I would highly recommend it!" ~ C.C.
Originally intended to host 99 workshops, SPY has reached its goal and continues to transform, due to the founder's boundless energy, enthusiasm and over 20 years' experience as a seasoned photographer. For more information and to attend a customized group photo experience, visit www.nycsparkyourcreativity.com
Register this fall at amusepro@me.com with code LOVE and pay only $475 for a customized group photo experience of 6 participants / (20% off from $600)
About Roberta Fineberg, creator of SPY
Roberta Fineberg is a seasoned photographer, author, and teacher. Her work has appeared worldwide in print and online from editorial to commercial assignments, book and cover art, to environmental portraits and lifestyle photography. She has worked extensively with prominent clients including photography for HBO American Beauty campaign (in US Today, TV guide and Entertainment Weekly), AT&T, Le Monde, Ms., to name a few.
Contact:
SPY
www.nycsparkyourcreativity.com
212.426.8572
Contact
NYC Spark Your Creativity
Roberta Fineberg
212.426.8572
www.nycsparkyourcreativity.com

Contact