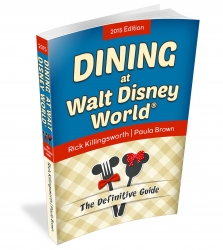 Celebration, FL, October 05, 2014 --(
PR.com
)-- "Dining at Walt Disney World ® – The Definitive Guide"
Brand new book focuses exclusively on dining at the most magical place on earth.
Today, RKA Media announced a unique new book that takes the mystery out of one of the most important but confusing elements of a Disney World Vacation; dining at the Walt Disney World® theme parks and resorts.
Choosing from over 300 on property dining choices is often overwhelming. That is why "Dining at Walt Disney World® – The Definitive Guide" was created.
"To make the most of your Disney vacation, you'll need to make the right dining decisions. Paula and I wrote this book to help you do just that. To help you plan your meals and your budget. To be 100% confident that you are making the best Disney dining decisions possible," stated Rick Killingsworth, co-author of the new paperback and upcoming Kindle eBook.
The book offers comprehensive coverage of dining at Walt Disney World® with over 340 pages of advice and tips including:
- Detailed descriptions of every Disney dining venue
- Understanding and receiving the best value from the Disney Dining Plan
- How to snag hard-to-get dining reservations
- Saving time and money while dining
- What are the "must do " character meals?
- Disney Dining.com exclusive Picks and Tips
The book is currently available on Amazon.com ($16.76, paperback, ISBN: 1500745863). The Kindle version will be available by mid-October.
About the Authors:
Rick Killingsworth
Rick visited the Magic Kingdom in 1971 for the first Christmas parade in their history. At nine years old, he was bitten by the Disney Bug. He can still remember the sights, the smells, and the sounds. It truly was magical. It would be twenty years before he could afford to take his young family back to "The World. " It was the vacation of a lifetime, and they have been fortunate to go hundreds of times since. His daughters, now grown, still tear up when they see the castle (as does he).
Paula Brown
Paula is a travel writer who grew up in Western Massachusetts. She is a graduate of New England College in Henniker, New Hampshire. She now lives in Orlando, Florida with her husband and daughter. They can be found at Walt Disney World several times a week. Paula is also a science fiction fan who is obsessed with Star Wars. She is the author of Dream Wanderers; the second book in the series is due to be released soon.
Any opinions that are stated in this book are not endorsed by or the opinions of Walt Disney World ®. This is an unofficial fan written book.
Contact: Richard Killingsworth
Email:
Rick@rkamedia.com
Website:
http://www.disneydining.com