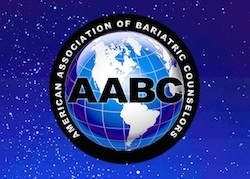 Montvale, NJ, October 08, 2014 --(
PR.com
)-- Stephen Phillips, Director of Public Policy for the American Association of Bariatric Counselors (AABC) has announced that AABC has successfully met all standards of education and has become an accredited Continuing Professional Education (CPE) Provider for The Commission of Dietetic Registration (CDR). CDR is the credentialing agency for the Academy of Nutrition and Dietetics.
The Commission's certification programs are fully accredited by the National Commission for Certifying Agencies (NCCA), the accrediting arm of the Institute for Credentialing Excellence based in Washington, D.C. "AABC's accreditation reflects achievement of the highest standards of professional credentialing," stated Director Phillips.
With the classification by the American Medical Association of obesity as a disease, the need for specialized competency and standards of education through certification in the discipline of Bariatric Science has become essential. AABC has been providing
online education and certification for licensed/certified health and education professionals specializing in obesities
since 2011 and has developed an international fellowship that spans five continents.
This is of special interest to graduate students pursuing professional health and education careers as well as professionals already engaged in
research, diagnosis, treatment and prevention of obesities
and related disorders. AABC online certification courses are available internationally to physicians, nurses, dietitians/nutritionists and mental health professionals that want to enhance their education and advance their careers. Because of the obesity pandemic "Bariatric Science is a science whose time has come," stated Director Stephen Phillips.
The American Association of Bariatric Counselors shares in The Commission of Dietetic Registration's mission of rigorous valid and reliable credentialing processes to protect the public and meet the needs of nutrition and dietetics practitioners.
The American Association of Bariatric Counselors (AABC) and their academic, clinical and research affiliates have developed uniform standards of education and competency for bariatric certification for licensed/certified health and education professionals as well as Masters and Doctoral level students pursuing health and education careers specializing in the area of obesity. These online certification programs are available at: http://aabc-certification.org/