R20 in Paris: Climate-KIC CEO Calls on Climate Change Leaders to Focus Their Efforts on Creating Sustainable Cities
At the R20 World Summit of Regions for Climate in Paris on 10-11 October, CEO Bertrand van Ee of the EU's main climate innovation initiative Climate-KIC will call for more cross-sector initiatives to enable integrated climate change innovation focused on meeting the environmental challenges faced by our urban areas.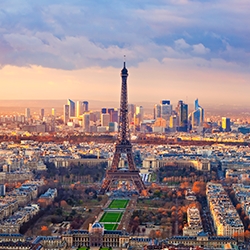 London, United Kingdom, October 10, 2014 --(
PR.com
)-- Bertrand van Ee, Chief Executive Officer of Climate-KIC – the EU's main climate innovation initiative – will represent climate change innovators from across Europe as he addresses regional governments, industry leaders and climate organisations at the World Summit of Regions for Climate in Paris.
Van Ee will call for more cross-sector initiatives to enable integrated climate change innovation focused on meeting the environmental challenges faced by our urban areas. To do this, Van Ee will highlight how we must harness local innovations to not only impact climate change globally, but also create positive business and economic opportunities for our cities and city-regions.
Nowhere is the climate challenge more pressing than in our cities. By 2050, some 70% of the world's population will live and work in urban areas, which as well as heightening carbon emissions, will put huge pressure on local ecosystems from urban planning and transport to waste management and food supply.
Speaking at the event on Saturday 11th October, Bertrand van Ee, Climate-KIC's recently appointed new CEO, will appeal to climate change leaders around the globe to focus their efforts on creating sustainable models for urban environments to help cities chart a path to a successful low carbon transition. In particular, Van Ee will highlight the advantages of tapping into local or regional expertise and networks in order to deliver real impact at a national, continental or global scale.
Van Ee commented: "Ultimately, the only way to have real climate impact in our cities is to get the best people in the public, private, academic and NGO sectors to work together. However, in order to transform the carbon footprint of European cities we mustn't just focus on one area. Instead we must extend our efforts across geographical, political, cultural and climatic boundaries. Because every city has a different story when it comes to controlling urban resources, you can't simply design here and hope to scale up there. Different cities face different challenges, so our local or regional insight really counts."
Climate-KIC's partner network consists of more than 230 partners addressing climate change on that all important regional level by creating opportunities for national and global bodies. A good case study is the Pioneers into Practice programme, where 260 individuals from 11 European regions are taking part in Climate-KIC's professional educationprogramme. Focussing on cross-sector participation and mobility between European regions, the initiative provides a model, which can be replicated in other areas to promote high-level skills for the low-carbon economy.
Van Ee continued: "First and foremost, our programmes are designed to improve the lives of individuals and communities, as well as to create new opportunities for businesses."
Recent Climate-KIC initiatives include: http://www.climate-kic.org/for-cities-and-regions
Building Technologies Accelerator: Multi-partner project using 'living labs' to test innovative ideas and technologies for Europe's construction sector to change the way we inhabit both home and office in order to create a future worth living in.
Making Transitions Happen: An interdisciplinary initiative, bringing 'systems thinking' to bear on climate mitigation strategies for Europe's cities, focusing primarily on non-technical imperatives in order to marry technological innovation with social transformation.
Greenhouse gas monitoring, reporting & verification: Collaboration bringing over 30 public and private partners of Europe's top research bodies together to create ground breaking greenhouse gas monitoring solutions for business, utilities, cities and public authorities.
Sustainable City Systems: Initiative bringing over 60 community partners together, to support start-ups and educate PhD students to develop integrated solutions for smarter urban systems, infrastructure and resource flows – solutions that are replicable and scalable from city to city.
Smart Sustainable Districts:A multi partner project to develop systemic solutions for climate-friendly sustainable cities starting at the neighbourhood level.
CarboCount: Application of novel accounting techniques to vastly improve the accuracy of regional greenhouse gas observations and development of marketable products for measuring greenhouse gases.
Climate-KIC is Europe's largest public-private partnership focused on climate innovation and carries out the EU's mandate to deliver large-scale innovation for climate change mitigation and adaptation across the continent and beyond it. With an extensive brief encompassing transport, water, waste and other systems, the organisation's initiatives are already delivering integrated innovation across sectors, promoting investment while empowering citizens, businesses and civic authorities.
About Climate-KIC
Climate-KIC is the EU's main climate innovation initiative. It is Europe's largest public-private innovation partnership focused on mitigating and adapting to climate change. Climate-KIC consists of companies, academic institutions and the public sector.
The organisation has its headquarters in London, UK, and leverages its centres across Europe to support start-up companies, to bring together partners on innovation projects and to educate students to bring about a connected, creative transformation of knowledge and ideas into products and services that help mitigate and adapt to climate change.
Climate-KIC is one of the Knowledge and Innovation Communities (KICs) created in 2010 by the European Institute of Innovation and Technology (EIT), the EU body tasked with creating sustainable European growth while dealing with the global challenges of our time.
Climate-KIC contacts
Angela Howarth
Head of Communications, Climate-KIC
angela.howarth@climate-kic.org
+44 (0) 20 7492 1972
Catherine Ouvrard
Communications Manager, Climate-KIC France
catherine.ouvrard@climate-kic.org
+33 (0) 6 24 33 73 41
Media contact
Mona Ghobadi/Ben Smith
EML Wildfire Technology PR
climatekic@emlwildfire.com
+44 (0) 208 408 8000
Contact
Climate-KIC
Angela Howarth, Head of Communications
+44 (0) 20 7492 1972
www.climate-kic.org

Contact