Floor Protection Helps Builders Save Big Time on Repairs
A new reusable floor protection product designed to protect floors and other surfaces during the construction process is on the market.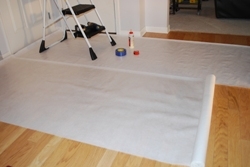 Farmington Hills, MI, October 14, 2014 --(
PR.com
)-- Surface Protection International has a simple solution for protecting floors while construction is going on at your job site. This floor protection product is not only a surface protection solution for the construction industry but is also a surface protection solution for the flooring industry.
Builder Foam, a heavy duty tear resistant waterproof floor protection is the new product and it will reduce surface damage to floors during construction while saving builders money in repairs. Many builders have suffered the stigma of ruining someone's new or existing floor during a construction project.
This new product will save the floor and the contractor's reputation at the same time. Surface Protection International is the manufacturer of Builder Foam. Surface Protection International is also a manufacturer of other surface protection products for the building industry. They manufacture products for the plumbing industry, flooring industry, and construction industry.
Surface Protection International is no stranger to the surface protection business. They have a full line of products designed to keep the construction site free of damage.
Their latest product, Builder Foam, comes in an easy to install roll that is 36" x 100'. The best thing about Builder Foam floor protection is it is made of a waterproof reusable material that is super strong and can hold up to heavy equipment, dropped tools, and job site traffic.
Started as the solution for the damages that were being inflicted on surfaces during the construction phase, founders Ray and Shannon Blake started Surface Protection International in 2009. Surface Protection International's surface protection product, Builder Foam, is now being distributed to contractors and builders throughout the world.
Keeping floors damage free is their priority. Since studies show 50% of floors are damaged during a construction job, this was the perfect product to add to their surface protection product line.
If you would like to learn more about Builder Foam or other surface protection products for the construction industry, simply click on
surfaceprotection.com
Contact
Surface Protection International
Ray Blake
866-235-4625
www.surfaceprotection.com

Contact