Door Protection Helps Builders Save Big Time
A newly designed product for contractors and builders when it comes to protecting doors during the construction phase is on the market. Manufactured specifically for reducing damage from dings, dents, scratches and paint, this product will protect doors while any phase of construction is being done.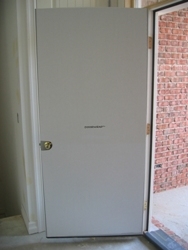 Farmington Hills, MI, October 16, 2014 --(
PR.com
)-- Surface Protection International has a solution for protecting doors while construction, remodeling, and building is going on at your job site. This product is not only a lifesaver for builders but it is also a green product.
DoorWrap door protection is the new product and it will help protect your investment as a builder when it comes to accidental chipping and scratching of doors during construction. Many builders have suffered the stigma of ruining a prize door during a remodeling or building project.
This new product will save the door and the builder's reputation at the same time. Surface Protection International is a manufacturer of construction surface protection products. They manufacture these products for contractors, builders, remodeling contractors and fixture manufacturers.
Surface Protection International is no stranger to the protective covering business. They have a full line of products designed to keep the construction site free of scratches, dents, and construction damage.
Their latest innovation, DoorWrap simply slips over any size door and provides immediate protection for the door. The great thing about DoorWrap is it is made of a material that is very strong and easy to install. Simply slip the one piece Door protector over the door and secure with two securing bands provided. Once the door protection is in place, you can easily open and close the door with the protection in place
Started as the solution for the damages that were being inflicted upon surfaces and fixtures during the construction phase, founders Ray and Shannon Blake started Surface Protection International in 2009. Their products are sold too a variety of customers such as contractors, hotel builders, commercial builders, residential builders, remodelers and door manufacturers.
Keeping entry way doors from being trashed and needing repair after construction is Surface Protection International's priority. Since studies show 60% of doors are damaged during a remodeling or construction job, this was the perfect solution to this problem.
Surface Protection International is no stranger to the development of construction products for the work force when it comes to builders, remodeling, and construction. Addressing other building construction needs have been met by more innovative ideas over the past 5 years, many of which have patents.
For more information on temporary door protection, go to
www.surfaceprotection.com
Contact
Surface Protection International
Ray Blake
866-235-4625
www.surfaceprotection.com

Contact