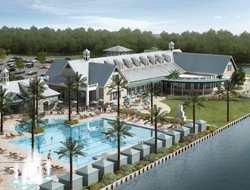 Jacksonville, FL, October 28, 2014 --(
PR.com
)-- You can feel the excitement in Atlantic Beach Country Club, as this unique coastal community nears completion. Residents, members and buyers have been keeping a steady eye on the progress as this beautiful and rare community comes to life.
"Week after week, the 16,000 square foot clubhouse and the 18-hole golf course changes dramatically," said Susie Wood, managing partner of Atlantic Beach Partners, LLC. "The progress has been astounding, and now as we round the corner to the finish line, you can see the stunning beauty of Atlantic Beach Country Club."
The big story is the incredible pace of home sites sales and membership sales. Buyers have quickly realized the exceptional lifestyle opportunities in Atlantic Beach Country Club, as well as the value of owning in what is currently, the only 18-hole golf course under construction near an ocean in the United States. Only four blocks from the beach, the community is a desirable destination for the entire east coast. Buyers have come from all over to grasp their opportunity to live in this beautiful coastal golf course community.
"It has been thrilling for me to watch the dreams of the Atlantic Beach Country Club buyers come to fruition," said Lee Elmore, REALTOR® with Berkshire Hathaway HomeServices Florida Network Realty. "Working with each buyer on their future home has been an honor. They are genuinely excited and counting the days until their home is finished." Lot sales are moving fast with 152 home sites under contract out of the 178 available. Buyers may select home sites ranging in size from 50-foot-wide to 80-foot-wide. The two preferred builders, Riverside Homes and Toll Brothers, have broken ground on the first of the community's homes with their furnished models. Homes will range from 2,000 to more than 4,000 square feet and are expected to sell for $600,000 to $1.5 million. Membership sales are moving just as fast as they reached 535 members according to Membership Director, Melissa Bryan. There are still Full and Sports memberships available.
Nestled in the heart of Atlantic Beach, residents will enjoy panoramic golf course and lake views, and live just a short walk or bike ride from the beach. The beautiful tree canopy and native Florida vegetation accents the gorgeous home site views. Atlantic Beach Country Club is scheduled to be complete in December.
The impressive 16,000-square-foot Clubhouse is well on its way to becoming one of the most beautiful buildings at the beaches. The coastal shaker style clubhouse creates a stunning centerpiece for this anticipated community. The pool deck, swimming pool, and kids Splash Deck are sure to be the center of activity at the clubhouse. The seven clay tennis courts are taking shape, as is the Fitness Center and Tennis Shop. State-of-the-art Precor fitness equipment will be installed in the Fitness Center soon to provide residents and members a professional workout.
The bar and dining areas overlooking the west lawn, pool and 18th green will offer outstanding sunset views. One area that will be very popular will be the clubhouse patio, which also features a large gas fire pit surrounded by Adirondack chairs for those after dinner drinks and fireside chats.
The 18-hole golf course, designed by Ponte Vedra resident Erik Larsen of LarsenGolf, has been completely redesigned and now has grass on the fairways. Soon, the traps will be filled with sand, which will really give the course a finished look. The golf course features unique bunkering and native areas along with a variety of trees that reflect the beautiful coastal maritime forest that makes North Florida such a beautiful place to live. For those members who enjoy walking instead of using golf carts, several tees and greens are short distances from each other, which will make Atlantic Beach Country Club a real joy to play. The golf course measures approximately 6,850 yards from the back tees and will provide for a fun, but true, test of golf for players of all skill levels. The Celebration Bermuda fairways and TifEagle Greens will provide for great playing surfaces year round.
The golf course offers multiple sets of tees, making the game both exciting and challenging for players of every skill level. The design concept is a risk vs. reward style course. "The further you hit the ball the harder the course gets," said Larsen. "If you get risky on your tee shot and take an aggressive angle, you will be rewarded on your next shot." He also stated the importance of designing the course to appeal to each specific class of player. "The trick to a good golf course is making it hard for the good players and fun for the average golfer. We want to see the top players in the area walk off the 18th green and talk about how demanding the course is."
Atlantic Beach Country Club also offers a practice facility, which includes a 350-yard driving range, practice putting green and a short game practice area for chipping. Whether you are a beginner or a scratch golfer, Spencer Brown, Head Golf Professional, and his staff offer private instruction, and can provide you with the skills to achieve the maximum enjoyment in playing the game of golf.
Atlantic Beach Country Club's General Manager, longtime North Florida resident, Ed Tucker will oversee the entire club operation, including golf, tennis, dining, catering, fitness, aquatics, member relations and general operations.
Home site sales for Atlantic Beach Country Club are listed by Berkshire Hathaway HomeServices Florida Network Realty. Call Lee Elmore, REALTOR® at 904-241-2835. For more information, please visit www.atlanticbeachcountryclub.com or for Membership information, call Melissa Bryan at 904-372-2222. For information on our preferred builders, call Kristine Williams or Laura Copeland at 844-871-7466 with Toll Brothers, or Steve Morgan at 904-476-4236 with Riverside Homes.