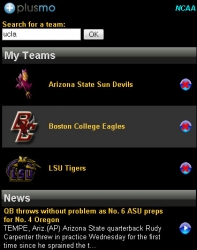 Santa Clara, CA, November 02, 2007 --(
PR.com
)-- Plusmo, the world's leading provider of mobile widgets, announced today the launch of free NFL and NCAA football widgets for the Apple iPhone. Plusmo's sports widgets make it easy for iPhone users to get the latest action for all the teams, leagues and players. Users get live, play-by-play updates, game schedules, breaking news, game photos, search and more. A custom interface allows users to personalize the widgets and follow their favorite football teams.
The service is live at
http://nfl.plusmo.com
The Plusmo widgets are packed with iPhone specific features - they automatically refresh themselves with in-game progress updates and eliminate the need for users to constantly refresh web pages. The large icons make it easy to use on the iPhone's tactile interface. The search driven portal with history personalizes the widgets and eliminates a lot of repetitive typing.
Plusmo's NCAA and NFL service is also supported on nearly all web-enabled phones, including off-the-shelf feature phones and smartphones such as Symbian devices, RIM Blackberry devices, Windows Mobile smartphones, Palm Treos and Pocket PC-enabled PDAs.
"Mobile users love this streaming experience during a live game. The in-depth coverage, with content and graphics optimized for the iPhone, is superior to any existing mobile experience," says Krishna Vedati, CEO of Plusmo. "Following a game using a Plusmo sports widget is the next best thing to watching it live on TV."
NFL/NCAA widgets for Bloggers
Plusmo also announced the availability of its web widgets for NFL and NCAA football. Plusmo's web widgets are easily embedded in blogs, websites and home pages. For example, bloggers can use these widgets to supplement blog posts with relevant live scores and team schedules provided by the widgets for any team. To add Plusmo sports widgets to a website, including a blog, publishers simply choose the team on the sports widgets web site. Plusmo e-mails them code, which they can simply paste into their page.
Evan S. Brunell, columnist and President, Most Valuable Network says "MVN is excited to be working with Plusmo on the Web Widgets because it allows readers to get instantaneous information on a live football game that they can follow while enjoying the blog experience."
Plusmo widgets are mini web applications that offer traffic reports, store locators, games, blogs, specialized searches, live sport updates and much more. Content providers, media houses and bloggers can now extend their services to the iPhone through Plusmo widgets free within minutes.
Plusmo also enables users to create personalized widgets out of useful web services, XML/RSS based sources including news feeds as well as professional media, and user-generated content such as blogs, photos and videos, and other Web 2.0 content. There are currently 25,000 widgets available on Plusmo.
For screen-shots click here:
http://www.plusmo.com/external/iphonewidget.jpg
http://www.plusmo.com/external/blogwidget.jpg
About Plusmo
Plusmo is a free mobile media service that delivers personalized rich mobile experiences through mobile widgets.
Plusmo launched in June 2006, and now gets more than 10 million mobile page views monthly. Plusmo enables people to extend social networking through mobile devices, anywhere, all the time on the move.
Simplest way to get mobilized — visit www.plusmo.com from any mobile device, download, register and personalize. Plusmo service is currently in beta.
Service is available on 2.5G, 3G and Wi-Fi
Contact:
Raghu Chandrapati
press@plusmo.com
Plusmo
4800 Patrick Henry Dr.
Santa Clara, CA 95054
www.plusmo.com
###