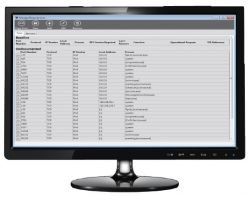 Christiansburg, VA, October 28, 2014 --(
PR.com
)-- FoxGuard Solutions is releasing its Ports and Services Auditor, an automation tool designed specifically to assist utilities with the creation and management of NERC CIP-005-3a, NERC CIP 007-3, NERC CIP-007-5, and NERC CIP 010-1 regulatory documentation.
The Ports and Services Auditor provides utilities with the ability to quickly and easily perform scans of their systems, and compare current open ports and services settings against a pre-defined baseline.
The Ports and Services Auditor:
· Reduces Time Spent Scanning: Saves users countless hours scanning and collating ports and services on Windows devices, each time they have to check system ports and services, by scanning locally for more accurate reporting.
· Generates Audit Report: Generates audit report detailing all listening ports and services, flagging new ports for clarification or mitigation.
· Stores Complete Scan History: Keeps history of all scans run per system, creating a ports and services timeline.
· Addresses Remote Procedure Call (RPC): The Ports and Services Auditor links RPC ports by services, to assist with dynamic port changes after reboot.
The Ports and Services Auditor will be available on October 27, 2014. More information on the Ports and Services Auditor can be found on the FoxGuard Solutions website, at
www.foxguardsolutions.com/products-services/details/ports-services-auditor.
FoxGuard Solutions provides cyber security solutions, regulatory compliance assistance, and industrial computing solutions for critical infrastructure entities and control system vendors. FoxGuard's key offerings include patch management and validation, end-of-life mitigation techniques, industrial computer solutions, R&D services, engineering services, and field implementation services.