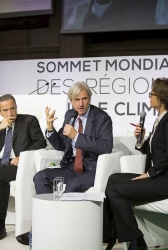 London, United Kingdom, November 02, 2014 --(
PR.com
)-- Bertrand van Ee, CEO of Climate-KIC, Europe's largest public-private innovation partnership focused on mitigating and adapting to climate change, responds to the publication of the Synthesis Report of the IPCC's Fifth Assessment Report on climate change:
"Let's not avoid the reality here, it's time for action. Europe is not immune to the impact of climate change, we need to take collective action now to reduce CO2 emissions. We must mitigate the impact of climate change - or many of us are going to experience catastrophic events in our own lifetimes.
"The impacts are going to be greatest in our cities and urban areas, where three quarters of Europeans live. Don't forget, the IPCC makes it very clear that some of Europe's most historic and beautiful cities are going to suffer from pollution, flooding, and food and water shortages.
"Because these impacts are going to be specific to each living environment, a coordinated response is now essential - however difficult to achieve. The EU's recent agreement to cut carbon emissions by at least 40 per cent by 2030, is part of the solution - but what's needed now is concerted collective action.
"Climate change is an unprecedented challenge, but also a great opportunity. We see collaboration increasing rapidly - partnerships between businesses, between industries and between the public and private sectors. We can no longer assume that we can make our 20th Century economic models greener. Instead we need to create new models that deliver sustainable jobs and bring down CO2 levels, by focusing on long, not short term value. It is only in this way that we will be able to combine the aims of environmental and economic prosperity.
"Climate-KIC is urging businesses to seize opportunities to develop the climate change innovations of the future. Together we can explore the potential for far greater collaboration with public, academic and non-governmental bodies. And, together we can promote the high-level skills needed for the world's next, low carbon, economy and create jobs for generations to come."
Climate-KIC supports hundreds of projects and entrepreneurs across Europe - taking the lead on delivering the immediate action that is needed to mitigate the impact of climate change while governments are still debating how they should respond to the challenge. Recent Climate-KIC initiatives focused on cities include:
· Building Technologies Accelerator: Multi-partner project using 'living labs' to test innovative ideas and technologies for Europe's construction sector to change the way we inhabit both home and office in order to create a future worth living in.
http://www.climate-kic.org/projects/building-technologies-accelerator/· Carbocount-CITY: Application of novel accounting techniques to vastly improve the accuracy of urban greenhouse gas observations and provide structured feedback on exactly where improvements in efficiency can be made to reduce emissions.
http://www.climate-kic.org/projects/carbon-emissions-from-cities/· Sustainable City Systems: Initiative bringing over 60 community partners together, to support start-ups and educate PhD students to develop integrated solutions for smarter urban systems, infrastructure and resource flows – solutions that are replicable and scalable from city to city.
http://www.climate-kic.org/themes/sustainable-city-systems An overview of Climate-KIC's work for cities can be found here: http://www.climate-kic.org/for-cities-and-regions.
About Climate-KIC
Climate-KIC is the EU's main climate innovation initiative. It is Europe's largest public-private innovation partnership focused on mitigating and adapting to climate change. Climate-KIC consists of companies, academic institutions and the public sector.
The organisation has its headquarters in London, UK, and leverages its centres across Europe to support start-up companies, to bring together partners on innovation projects and to educate students to bring about a connected, creative transformation of knowledge and ideas into products and services that help mitigate and adapt to climate change.
Climate-KIC is one of the Knowledge and Innovation Communities (KICs) created in 2010 by the European Institute of Innovation and Technology (EIT), the EU body tasked with creating sustainable European growth while dealing with the global challenges of our time.
http://www.climate-kic.org/press-releases/climate-innovation-initiative-to-scale-up-efforts-throughout-2014-receives-e63m-eu-boost/
Climate-KIC contact
Angela Howarth
Head of Communications, Climate-KIC
angela.howarth@climate-kic.org +44 (0) 20 7492 1972
Media contact
Mona Ghobadi/Katie Ward
EML Wildfire Technology PR
climatekic@emlwildfire.com +44 208 408 8000