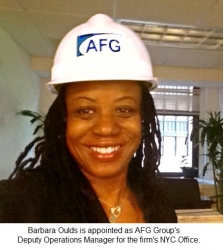 New York, NY, November 05, 2014 --(
PR.com
)-- AFG Group, Inc., a leading, award-winning construction management and relocation firm, announced the appointment of Barbara Oulds as Deputy Operations Manager for the AFG New York City office. In this capacity she will be specifically responsible for city-wide AFG contracts, working directly for Lew Ayers, AFG Project Director and Operations Manager.
Ms. Oulds has more than 20 years of project and construction management experience, including a portfolio of state and city projects throughout the Tri-State Region. Many of her clients included institutional agencies such as K-12, university, governmental and multi-family housing clients where Ms. Oulds served as a construction manager, a contractor, and as an owner.
Michael O'Connor, AFG's President and Regional Director stated, "AFG's NYC office is the largest it has been in terms of contracts and full-time employees. We are actively managing seven project sites, and have won work as a sub at the SCA as well as three IDIQ contracts at NYCHA and one IDIQ contract renewal at DCAS. The firm is now running work in all five boroughs and is expanding into the New Jersey and New England markets. Ms. Oulds' appointment as Deputy Operations Manager will greatly enhance AFG's ability to provide direct quality work on all our projects and will significantly increase our ability to handle larger and more complex projects."
About AFG Group, Inc.
AFG Group, Inc. is a Woman-Owned, multi-disciplined program, construction, and relocation management firm with a national portfolio of work in healthcare, laboratories, courthouses, educational facilities, and government buildings. With 25 years in business, AFG has earned a reputation for providing strong expertise, responsiveness, and project execution that helps owners navigate through complex design, procurement, construction, and activation processes. A women's business enterprise (WBE), AFG has grown significantly over the past few years.
Since July, the firm was named as a top ranked contractor in the Tri-State Area by ENR New York, recognized as a Top 100 CM for Fee Firm by ENR, won the 2014 New York Construction Award for Outstanding MWBE, and won two CMAA Project Achievement Awards, one for the NY/NJ Chapter, and one National Award. Visit www.afgcm.com for additional information.