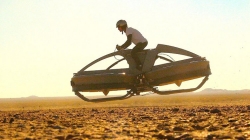 Los Angeles, CA, November 13, 2014 --(
PR.com
)-- Recently, premier online travel publication Destenaire published an interview with the Chief Technology Officer of Aerofex, Mark De Roche. Destenaire writer Bree Steinbronn and De Roche talked about the inspiration behind the innovative Aero-X, as well as what challenges come with building such a unique type of aerial vehicle.
"When I was studying aerospace engineering at UCLA I had the privilege of receiving flight training in helicopters and airplanes. From that experience it occurred to me how hard they were to fly," De Roche told Destenaire. "I had always wondered if piloting could be made easy - and that's what started us on the quest."
And Aerofex has been dreaming up incredible aircraft ideas ever since. Currently, the Aerofex team is focusing their efforts on their flagship vehicle, the Aero-X (which is essentially an all-terrain aerial hoverbike).
But the process hasn't been entirely seamless, De Roche admits. For the Aero-X, changing people's perception on flight in general was initially easier said than done.
"Technically, stability and control were the overriding issues. [But] culturally, pulling people forward and convincing them that there need not be a mystique around flight – that, in fact, it can be made approachable, has been difficult," De Roche says.
However, seeing that consumers are now able to reserve a place in production with a refundable deposit of $5,000 and with the first estimated customer delivery in late 2017, Aerofex seems to have tackled this obstacle.
To see what else De Roche had to say about the Aero-X, check out the entire article on Destenaire.com.
About Aerofex:
Based in Los Angelos, CA, Aerofex aims to "democratize flight" by designing, building and perfecting aerial vehicles that are accessible, affordable and easy-to-maneuver.
About Destenaire:
Destenaire is an online travel publication that brings accurate and interesting information to you about the best travel destinations in the world. Destenaire believes that every destination can become the perfect vacation spot for you when you are equipped with the right information about your location. The website also provides information on locations that are off the beaten track. You can follow Destenaire on Twitter and Facebook, or visit the site at http://www.destenaire.com.