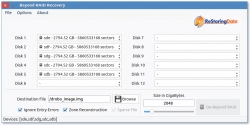 Vancouver, Canada, December 03, 2014 --(
PR.com
)-- The BeyondRaid Recovery tool simulates Drobo on your PC and reconstructs it for data recovery and computer forensic purposes.
ReStoring Data has developed an advanced professional
Drobo recovery
tool - the only one of its kind. BeyondRaid Recovery connects Drobo drives directly to a PC, virtualizing the entire Drobo unit in order to recover invaluable data when the system has severely failed and the data is no longer accessible. Uniquely, it also allows for the modification of the RAID configuration (i.e. adding/removing drives), which is highly advantageous in the event of a serious RAID failure. By creating a sector-by-sector exact image copy of the RAID, BeyondRaid Recovery provides increased flexibility when using other data recovery or computer forensics tools to extract and analyze the lost data.
What makes data recovery from a Drobo BeyondRaid so complex? Drobo's BeyondRaid configuration is widely acclaimed for its highly intelligent system, resiliency, unrivaled expandability, and ease of use. However, any sophisticated system must have a drawback, and Drobo can be notoriously difficult to recover from when the RAID fails for any reason. Due to the proprietary nature of the advanced Drobo technology, data recovery and computer forensics experts cannot rebuild the Drobo array on a PC, only through the Drobo box itself. This can be problematic when the Drobo is physically degraded. The recovery process can also be extremely slow and often only allows for superficial file level access to the data. ReStoring Data's new tool revolutionizes this recovery process, and has been successfully utilized in the recovery of numerous Drobo recovery cases at its lab.
BeyondRaid Recovery is also very beneficial for forensics purposes. It allows for a fast, verified sector-by-sector image copy of a suspect's drive, which may then be used with any third party forensics tool or data extraction program. This unique BeyondRaid Recovery tool currently supports the majority of Drobo configurations, including Drobo 5D, 5N, B1, B2, and the b800 series, as well as all BeyondRAID configurations, including RAID 1, RAID 5, RAID 6 and mixed drive utilization.
BeyondRaid Recovery was developed in-house by ReStoring Data's expert programmer/specialist for the sole purpose of expanding the company's Drobo data recovery capabilities. By continually investing in cutting-edge research and development, ReStoring Data remains at the forefront of the data recovery industry, ensuring their customers always have a recovery solution.
About ReStoring Data:
Named British Columbia's Best Company for 2013, ReStoring Data Inc. is a highly specialized data recovery and digital forensics company that provides unparalleled services to clientele across public, private, and corporate sectors alike. With a strong investment in innovative research and development and a transparent, customer-focused business model, ReStoring Data has a strong track record of successfully recovering vital data from virtually any type of digital storage media, such as hard drives, RAIDs, Drobos, memory cards, USB flash drives, tablets and phones.
For more information about ReStoring Data, please visit
www.ReStoringData.ca